I hope you're all ready for another long ForGoodnessGrape review! I went a little crazy a few months ago on FGG balms. I mean, I placed a bunch of orders and all of them had about seven balms or more. I think I was just a little crazy about ForGoodnessGrape lip balms. I mean come on, have you guys seen how many flavors Lisa has in her shop? I mean, I know I don't have to have them all, but I'd sure like to!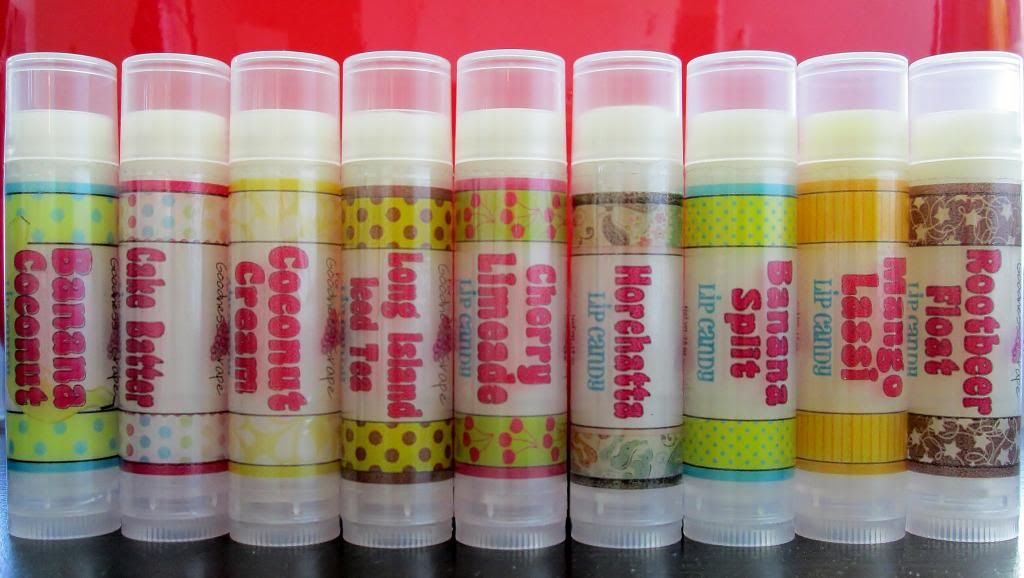 Company:
ForGoodnessGrape
Flavors:
Banana Coconut, Cake Batter, Coconut Cream, Long Island Iced Tea, Cherry Limeade, Horchata, Banana Split, Mango Lassi, and Rootbeer Float. The
Banana Coconut
has the banana scent of those Popsicles I love so much and the tropical, warm scent of coconut. It's seriously the epitome of hot summer days! After I found the Chapstick Cake Batter balm, I quickly started my hunt to find a natural alternative to it. The
Cake Batter
was close, but not quite there. It smells of delicious cake and sugary frosting, but then there's a slight burnt scent to it. But, if you're looking for a natural cake batter balm, this is one for you to try! The
Coconut Cream
smells of tropical coconut and warm vanilla cream, it's a very mellow balm, but it is lovely! The
Long Island Iced Tea
smells very much like iced tea and lemonade with a little kick! The
Cherry Limeade
smells of delicious, sweet, ripe cherries and tangy, sour lime. It's a little candy-like to me too which I really enjoy! Ever since I fell in love with Ballyhoo Bath's Horchata balm, I wanted to find another one (because I'm crazy and have to have the same flavor from at least two shops), and FGG's
Horchata
was definitely it! It seriously smells incredible! I've never had Horchata before, but now I really, really want to! It smells of rice milk, vanilla, and cinnamon. It's warm and a little spicy, but just so amazing. The
Banana Split
is a wonderful combination of scents, it smells of banana, chocolate , and strawberry. Sometimes when I smell this balm though, it has kind of a medicine-like scnet to it. Kind of like Flintstones vitamins? The
Mango Lassii
is one of my favorite FGG balms! It's a wonderful scent of ripe mangoes, yogurt, and spices. It's seriously just amazing. The
Rootbeer Float
smells just like root beer and vanilla ice cream! I don't even like root beer, but man do I love this balm!
Wear:
These balms go on sooo smooth and creamy! They go on without being too thick or cloying, the consistency is just wonderful. Two swipes on top and bottom and you're good to go! I really do go overboard when I'm putting on balm though so going around three or four times is not unusual. Having a balm that glides on smooth makes it even easier to get carried away!
Packaging:
These balms come in your average sized lip balm tubes that have brightly colored labels. The labels are designed individually for each tube, each label is different yet have a similar and uniform style to them.
Price:
$3.75 per tube which is definitely worth it for one of these balms!
Overall
Pros:
Flavors, Wear, Packaging, Price
Cons:
Rating: 5 out of 5 twists. I always love my FGG balms! There are just so many flavors to choose from, you're bound to find one, two, or ten that will fit your tastes.
Ingredients: Shea Butter, Cocoa Butter, Mango Butter, Sweet Almond Oil, Beeswax, Jojoba Oil, Coconut Oil, Castor Oil, Vitamin E, Fragrance
Have you tried any of these ForGoodnessGrape balms? What did you think of them?