Hi all! I'm super excited to share with you a review from one of my readers, Jean. Jean was nice enough to send me a guest review to use while I'm attending a conference this week. I also want to apologize in advance because tonight we just got so swamped after the conference, that I'm barely staying awake right now to complete this post (we were there for 8 hours plus an hour of travel each way). I won't be able to write a second review for you tonight, but I'll try to make it up to you guys and fit another review in for you somewhere! Anyway, I'm so grateful that Jean was able to come to my rescue this week with this guest review. Jean said that she couldn't resist reviewing one of her favorite Etsy shops and that aside from lip balm she's also a bath & body fanatic. She likes Mirasol Farm because for her it's one-stop shopping.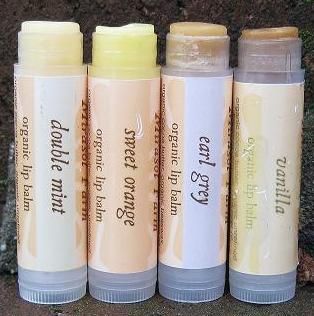 Company: Mirasol FarmFlavors:

Vanilla, Earl Grey, Sweet Orange, and Double Mint.

Vanilla

smells just like the vanilla extract you can buy in the baking section of a supermarket, I used to love to open the bottle we had in our kitchen growing up to get a whiff.

Earl Grey

is a blend of vanilla, orange and bergamot, I was expecting a tea scent but because of the vanilla it smells like an orange creamsicle, which in my opinion is even better!

Sweet Orange

smells like a glass of orange juice, more sweet than tart. This one and Double Mint I keep at work when I need a pick me up.

Double Mint

is a blend of spearmint and peppermint, which is my favorite combination of mints. The two together really make a mint flavor "pop".

Wear:

These medium-weight balms go on very smoothly and have a creamy feel. With the mint flavor there is a little tingle but not an uncomfortable amount, and for me it adds to its ability to wake me up when I'm feeling a little post-lunch drowsiness coming on.

Packaging:

These balms come in clear round tubes with labels with stripes of color to match the flavor of the balm. The name of the flavor is stated on front, so if you can't distinguish them by color, you can easily determine which balm you're reaching for. With the sunflower background graphic on all flavors the labels are very simple and to the point.

Price:

$3.50 per balm, or $10 for 3, and shipping is only $1.69. And I usually receive an extra bonus balm as well!

Overall Pros:

Flavors, Wear, Packaging, Price

Cons:

Rating: 5 out of 5 twists for formula, flavor strength, and organic ingredients. For anyone familiar with The Simple Siren, these balms have a similar flavor strength to those. If you use other handmade bath and body products like lotion, body cream, and soaps, they are highly scented as well.

Ingredients: organic cocoa butter, unrefined organic beeswax, organic sunflower oil, organic coconut oil, lanolin, essential oils, vitamin E.
Essential oils for each flavor are: Vanilla - vanilla essential oil, Earl Grey - vanilla, sweet orange, and bergamot essential oils, Sweet Orange - blood orange essential oil, and Double Mint - spearmint and peppermint essential oils.

-------------------

Thank you again, Jean, for providing us with such a wonderful review! I hope you all enjoyed reading! Have a wonderful day!