It's been a little while since my last Live Beautifully review, so I figured it was about time for one! I know in the picture there are lip balm pots, but those will be included in a later review. I didn't want to make the review toooo long. Anyway, I hope you enjoy!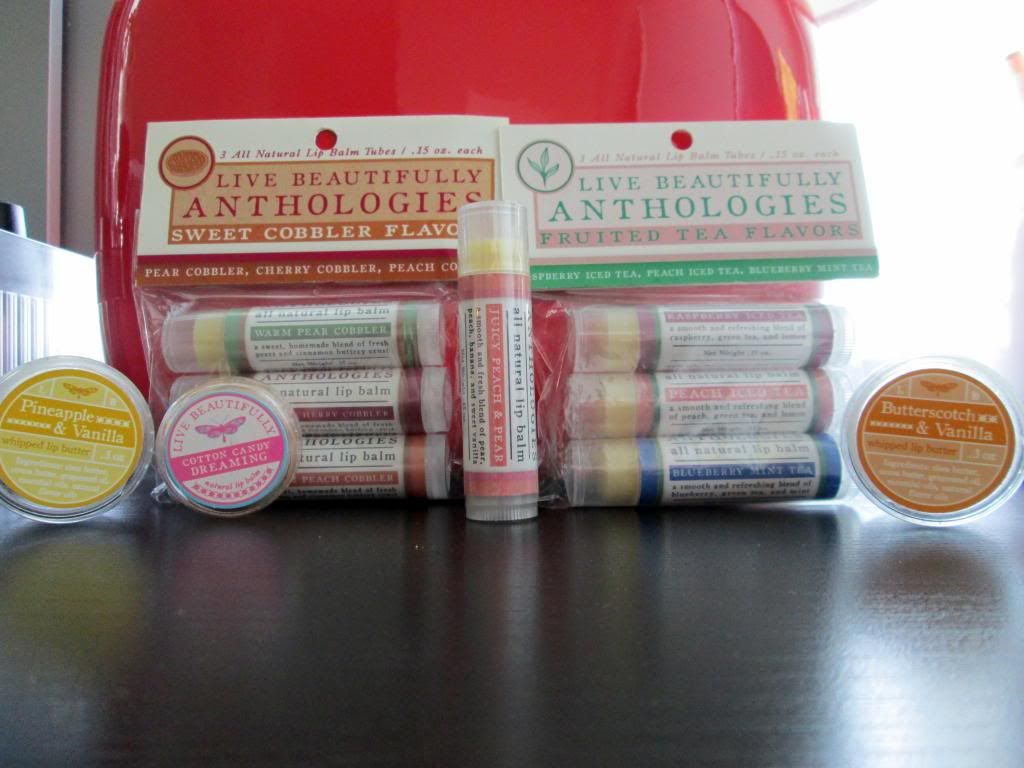 Company:
Live Beautifully
Flavors:
Warm Peach Cobbler, Warm Cherry Cobbler, Warm Pear Cobbler, Raspberry Iced Tea, Blueberry Mint Tea, Peach Iced Tea, and Juicy Peach & Pear. The
Warm Peach Cobbler
smells just like warm baked peaches! The
Cherry Cobbler
smells just as you would expect, warm cherries baked to perfection. The
Pear Cobbler
is just like the others, a perfect anthology of warm baked fruits! This one has the sweet scent of baked pears (almost put 'bears' there instead, yikes!). The
Raspberry Iced Tea
smells incredible! Ripe raspberries and refreshing iced tea, it really makes my mouth water! The
Blueberry Mint Tea
reminds me of those scented markers I had as a kid, it smells just like blueberries with cool mint. I used to love those scented markers, and especially the blueberry one! This balm is just wonderful! The
Peach Iced Tea
smells just like a tall glass of refreshing peach iced tea. The
Juicy Peach & Pear
is such a unique lip balm flavor, it smells of ripe peaches and sweet pears.
Wear:
These balms go on very smooth. The consistency may be a bit thinner than some of my other balms, but it's definitely a welcomed change! It's great, lightweight protection for my lips!
Packaging:
These come in your average sized lip balm tubes with labels I really love! Each label has a color scheme to match the flavor of the balm, the name of the shop, the flavor of the balm, and a description of the flavor of the balm. They're really wonderful.
Price:
$4 per tube or $10 for the whole anthology (3 balms). Definitely worth it for one of these balms!
Overall
Pros:
Flavors, Wear, Packaging, Price
Cons:
Rating: 5 out of 5 twists. Live Beautifully balms are always some of my favorite balms! There are so many flavors to choose from and they're all so unique and interesting, not to mention wonderful!
Ingredients: Beeswax, Cocoa Butter, Shea Butter, Mango Butter, Apricot Kernel Oil, Grapeseed Oil, Sweet Almond Oil, Macadamia Nut Oil, Coconut Oil, Natural Flavors & Oils
Have you tried these Live Beautifully balms before? What did you think of them?