Hi all! I hope you're having a wonderful week so far! It's almost the weekend and I really can't wait for tomorrow to be here! My best friend is flying in to visit us for the weekend, so we're really excited to have her here. Anyway, it's been about a month since my last Ripe Shop review, so I figured it was just about time for another one!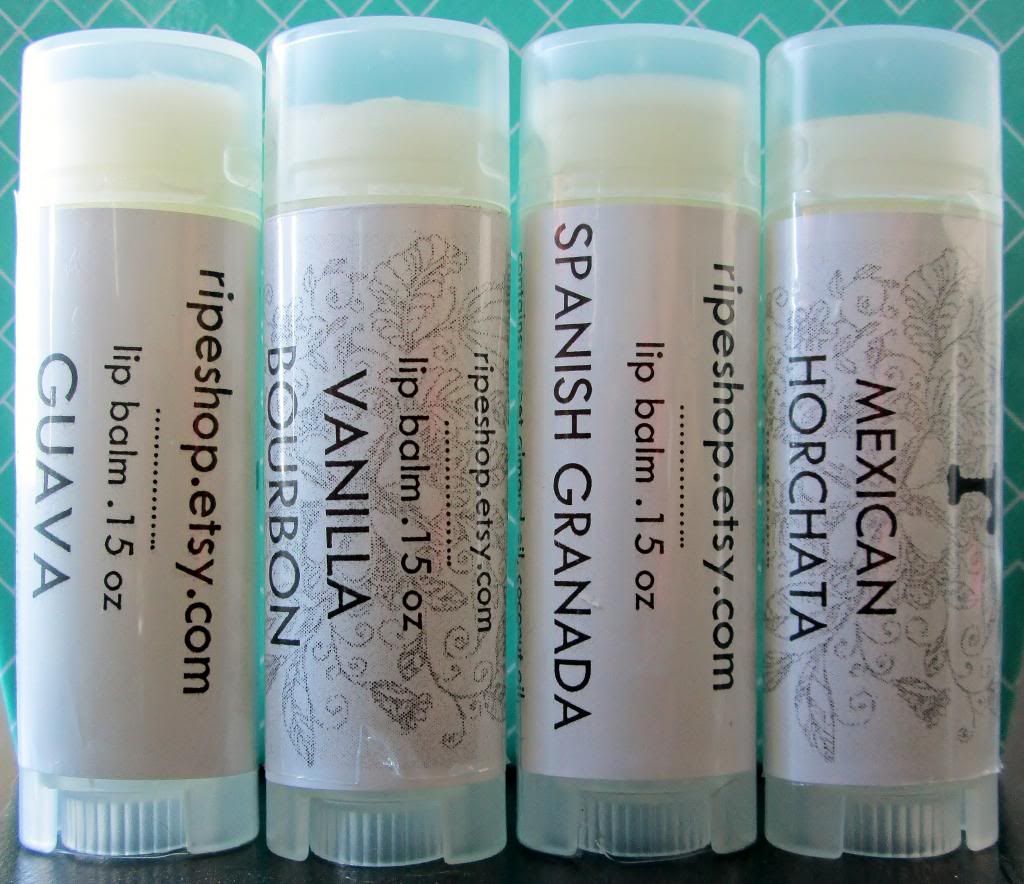 Company:
Ripe Shop
Flavors:
Vanilla Bourbon, Spanish Granada, Guava, and Mexican Horchata. The
Vanilla Bourbon
was definitely a flavor I didn't think I'd like, but man am I glad I tried it! It has a rich vanilla scent with an extra sweetness. The
Spanish Granada
has a sweet, candy-like pomegranate scent with a slight orange scent. The
Guava
has a sweet, tropical scent; it smells incredible! It's fruity and delicious! The
Mexican Horchata
has a rich delicious scent. It smells just like vanilla, rice milk, and cinnamon. Sooo yummy!
Wear:
These balms melt right onto my lips, as soon as they make contact with my lips it melts! These balms are a bit delicate so don't go crazy and press super hard on them! They glide on so smooth and go on super easy, however they are a little slicker than some of my normal balms but they provide wonderful coverage.
Packaging:
These come in oval tubes with white labels. The labels have the name of the shop and the flavor of the balm right on the front which makes it very easy to read and identify which balm you're reaching for.
Price:
$4 per tube which is definitely worth it for one of these balms!
Overall
Pros:
Flavors, Wear, Packaging, Price
Cons:
Rating: 5 out of 5 twists. Each of these flavors was really amazing. I've never been disappointed with a Ripe Shop balm before, I'd definitely recommend trying at least a few!
Ingredients: Sweet Almond Oil, Coconut Oil, Beeswax, Avocado Oil, Cocoa & Shea Butters, Vitamin E, Flavor
Have you tried these balms from Ripe Shop before? What did you think of them?