It's been a while since
my last Simple Siren review
, so I hope you're all looking forward to this one! I've got some interesting flavors in this review since Kat was kind enough to throw in two freebies in my order!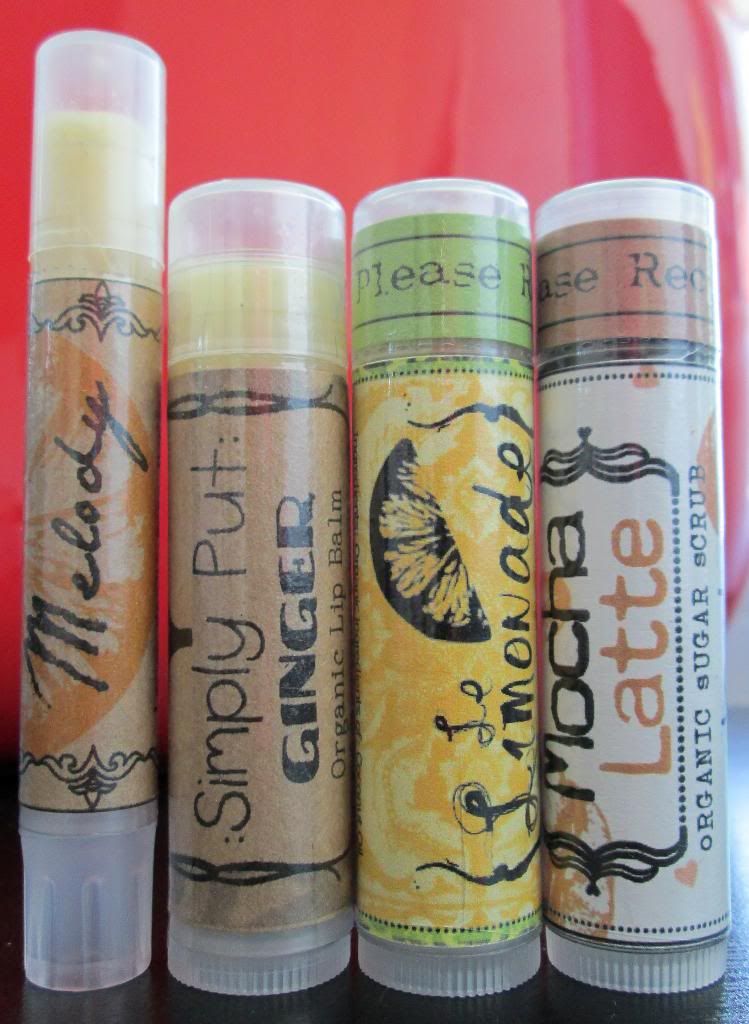 Company:
The Simple Siren
Flavors:
Mocha Latte, Le Lemonade, Melody, and Ginger. The
Mocha Latte
is definitely a coffee lovers dream! I'm not a huge fan of coffee because, well, I have a ton of energy naturally and when I'm given coffee I kind of go crazy and bounce off the walls. I had received this balm as a freebie in a previous order which I gifted to someone, so I had to order myself another one. The one I had previously smelled amazing, like super chocolatey coffee. The one I have now smells much more like coffee with a little bit of chocolate, it really is a rich lovely coffee scent. The
Le Lemonade
smells incredible! It smells just like fresh squeezed lemons with just a little bit of sugar, it really makes me crave some lemonade! It also kind of reminds me of lemon water since it's not crazy sweet like some lemonade balms, which happens to be my favorite drink! The
Melody
smells of sweet lemon with just a little bit of vanilla. Rob thinks that it smells more like lemon and cake, either way it's wonderful! Now, I'm not a fan of ginger, I only like a little bit in my food, but otherwise, I'm not really a fan. I still wanted to give this balm a shot though! The
Ginger
smells EXACTLY like ginger, its warm and spicy and pungent. If you like ginger, you'll like this balm, but since I'm definitely someone who doesn't like a lot of ginger, this balm was not for me.
Wear:
These balms go on sooooo smooth and creamy, you definitely don't have to force these balms, because if you do you'll end up with balm everywhere! These balms melt right on contact with your lips, so a little pressure definitely goes a long way. These balms are very soft and delicate which makes them go on really easily, but it's also really easy to get balm where you don't want it to be. The Mocha Latte is a scrub which goes on easily and makes my lips nice and smooth!
Packaging:
These balms come in your average sized lip balm tubes, except for Melody which comes in a thin lip balm tube (similar to
Upstate Herb Works' Porch Party
or
Softlips
tubes). They all have earthy and rustic (is that the right word?) looking labels, they're very crafty looking! The labels are a thicker paper which can definitely withstand some wear and tear.
Price:
$4.25 to $4.75 which is higher than I'd like to pay for a lip balm, but there's usually a coupon code which brings the price down a bit. These balms are organic and natural though which is why they cost more than other balms.
Overall
Pros:
Flavors, Wear, Packaging, Price
Cons:
Rating: 5 out of 5 twists. These balms were wonderful, even if I didn't like some of the scents because well I'm just not a fan of them, that doesn't mean these balms aren't really fabulous! Because they definitely are!
Ingredients:
Mocha Latte- Coconut Oil, Raw Cocoa Butter, Raw Cane Sugar, Organic Jojoba Oil, Organic Fair traid coffee, Beeswax, Carnauba Wax, herbal infusions, Calendula, organic vanilla, raw cocoa, stevia, olive oil
Le Lemonade-Organic ingredients of: Coconut Oil, Sweet Almond Oil, Virgin Olive Oil, Avocado Oil, Beeswax, Calendula, Lemon Rind, Cold pressed lemon oil
Melody-Avocado Butter, Virgin Coconut oil, raw shea butter, avocado oil, local beeswax, carnauba wax, lemon peel, virgin citrus oils, vanilla bean, olive oil, vanilla oil
Ginger- Raw Coconut Oil, Sweet Almond Oil, Rose hip seed oil (Vitamin E), beeswax/Carnauba wax, ginger oil
Have you tried these Simple Siren balms before? What did you think of them?