I know I've had these wonderful lip butters for quite some time now, so I thought it was about time I shared with you what I thought about them! When I first got these wonderful tins (which were a little hard to track down when they first came out), I couldn't stop using them!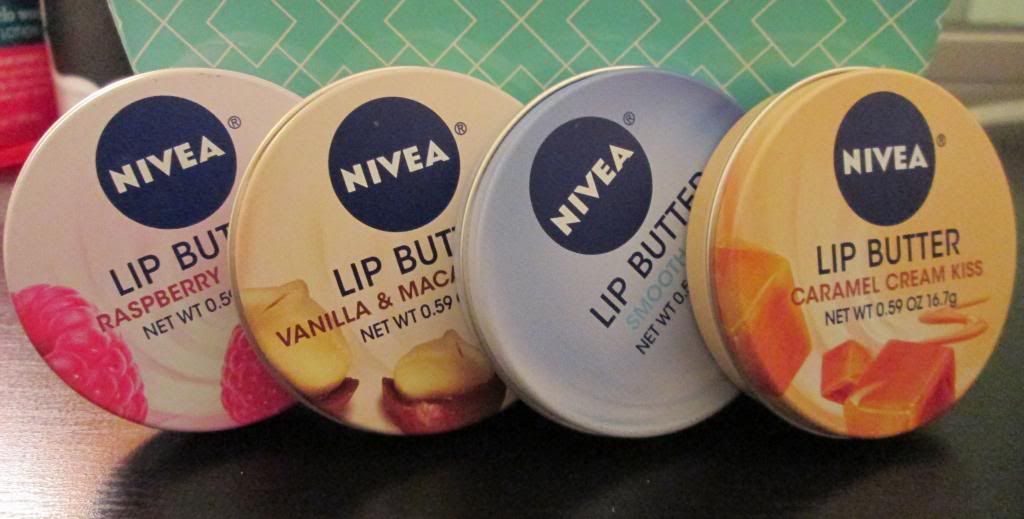 Company:
Nivea
Flavors:
Smooth Kiss, Caramel Cream Kiss, Raspberry Rose Kiss, and Vanilla & Macadamia Kiss. The
Smooth Kiss
is the plain, unscented version of these lovely lip butters; so if you're not a fan of scented products, this may be the one you want to try! The
Caramel Cream Kiss
has a rich, ooey-gooey caramel scent to it. It has an uber decadent scent to it! The
Raspberry Rose Kiss
has a ripe, sweet raspberry scent combined with the fresh scent of rose. The
Vanilla & Macadamia Kiss
is my absolute favorite of these lip butters. This lip butter has a rich, decadent, creamy vanilla scent combined with a little nuttiness.
Wear:
These lip butters have such a lovely consistency. They're super creamy and melt right upon contact with your lips, making your lips feel super soft almost instantaneously. They last through some drinking and light snacking too which is nice.
Packaging:
These come in round metal tins that weigh 0.59oz (16.7g). Each tin's lid has images on it depicting the flavor of the lip butter inside which makes it super easy to find your favorite flavor (if you keep them all in one place like I do).
Price:
I think I paid $3 to $4 for one of these tins which was definitely worth it! It's hard to believe that these tins contain almost 4x as much balm as your average tube (.15oz) so I definitely think it's worth it!
Overall
Pros:
Flavors, Wear, Packaging, Price
Cons:
Not natural
Rating: 4.5 out of 5 twists. These tins were super lovely! If they were to come out with any more scents, you know I would be all over them in a heartbeat. I really love the consistency of these, I often use them before bed as my night balm.
Ingredients: Petrolatum, Polyglyceryl-3 Diisostearate, Shea Butter, Castor Seed Oil, Sweet Almond Oil, Water, Glycerin, Glyceryl Glucoside, BHT, Titanium Dioxide
Have you tried these Nivea Lip Butters yet? What did you think of them? Which one is your favorite?