Hi all! Hope you're having a great week so far! I'm sorry there wasn't a post yesterday, I was just sooo busy moving and traveling and just plain exhausted, I didn't have any motivation to write. We didn't even get to go to sleep until about 3AM this morning, so I was exhausted. I'll have you guys know that TSA was freaking incredible when we were going through Virgin America's security. They saw we had pets and immediately let me go into a private screening room and the woman who was helping me does cat rescue on weekends so she was having so much fun helping me. When I was at Midway airport with the cats I had to BEG for a private screening room and only after two different supervisors were called did they let me have one, but the woman helping me then was like "DON'T LET THEM TOUCH ME, THEY'RE GOING TO BITE ME!" It was still great they gave us a private room last time, but boy oh boy was their attitude about it SO SO SO much better. I was happy enough to fill out a comment card immediately after and couldn't thank them enough. If you're ever flying out of SFO through Virgin America with pets, Cliff and Anna at security are AMAZING! ANYWAY, it's been a while since
my last Aqua Blossom review
and I really love Aqua Blossom balms, so it's about time I get one up, don't ya think?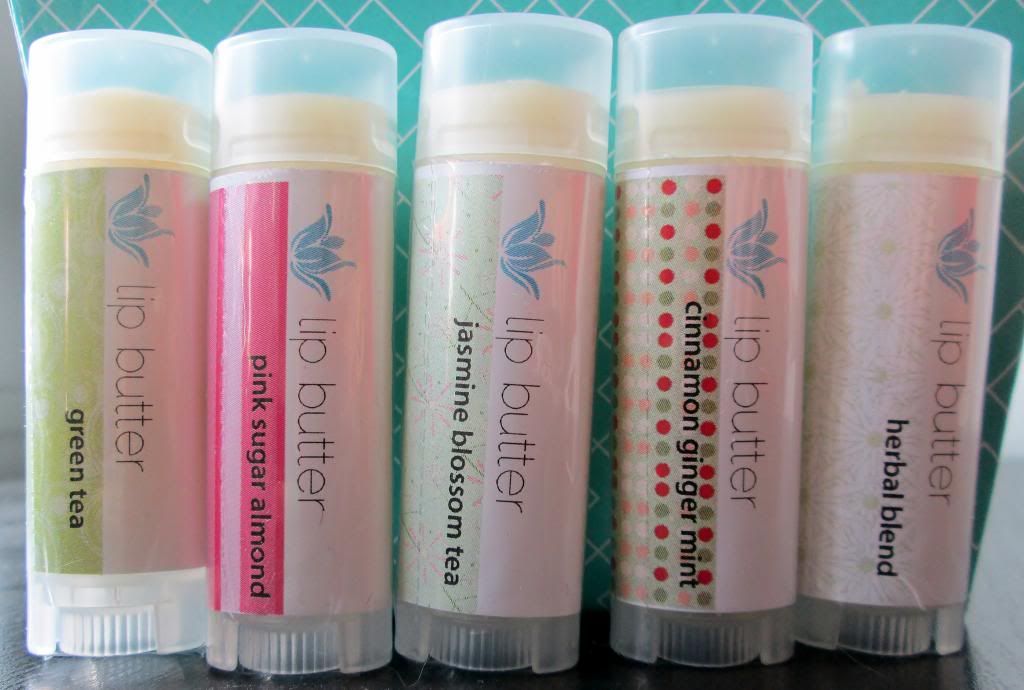 Company:
Aqua Blossom
Flavors:
Green Tea, Cinnamon Ginger Mint, Jasmine Blossom Tea, Herbal Blend, and Pink Sugar Almond. The
Green Tea
smells of amazing sweet, rich green tea scent. I know that sounds weird, but it has a really wonderful and prominent green tea scent. Rob thinks it smells more like Hi-C Fruit Punch, but then again him and I never agree on what a balm smells like. The
Cinnamon Ginger Mint
has a warm and spicy scent that is only complimented by the coolness from the mint. This scent is so unique and really wonderful! Rob thinks it smells like Christmas, and it totally does, this would be great for the holidays! The
Jasmine Blossom Tea
has a light, faintly sweet tea scent. The
Herbal Blend
smells very minty! I don't pick up too many herbs, but there's definitely something there that tones down the mint a bit. The
Pink Sugar Almond
smells of sweet almond with extra sweetness from the scent of icing. This one is definitely a unique scent I've never tried before.
Wear:
These balms go on so smooth and glide right onto my lips. They make my lips feel really soft and wonderful!
Packaging:
These balms come in oval tubes with very clean and simple designs. Each label has a colored portion that reflects the flavor of the balm, making it easier to distinguish each balm from each other.
Price:
$3.75 per tube which is really a great deal! It's totally an affordable price point that allows you to try so many different balms (and Ashley has a TON of different yummy flavors!).
Overall
Pros:
Flavors, Wear, Packaging, Price
Cons:
Rating: 5 out of 5 twists. These balms were definitely scents I don't normally choose, but I really wanted to try some new things outside of my comfort zone and these were definitely wonderful! I'd recommend trying any Aqua Blossom balm that you have any sort of inkling towards, they're ALL wonderful!
Ingredients: shea butter, sweet almond oil, apricot kernel oil, avocado oil, candelilla wax, coconut oil, kokum butter, soybean oil, essential and/or lip-safe fragrance (flavor) oil, vitamin e oil
Have you tried these Aqua Blossom balms before? If not, what's your favorite Aqua Blossom balm?