Okay you guys I seriously couldn't wait to tell you about these new
Baby Moose Lips
that Lisa from ForGoodnessGrape has come up with. They're pretty special and I haven't stopped using them since I got them! I love every lip balm line that Lisa comes out with, but this one may be my absolute favorite!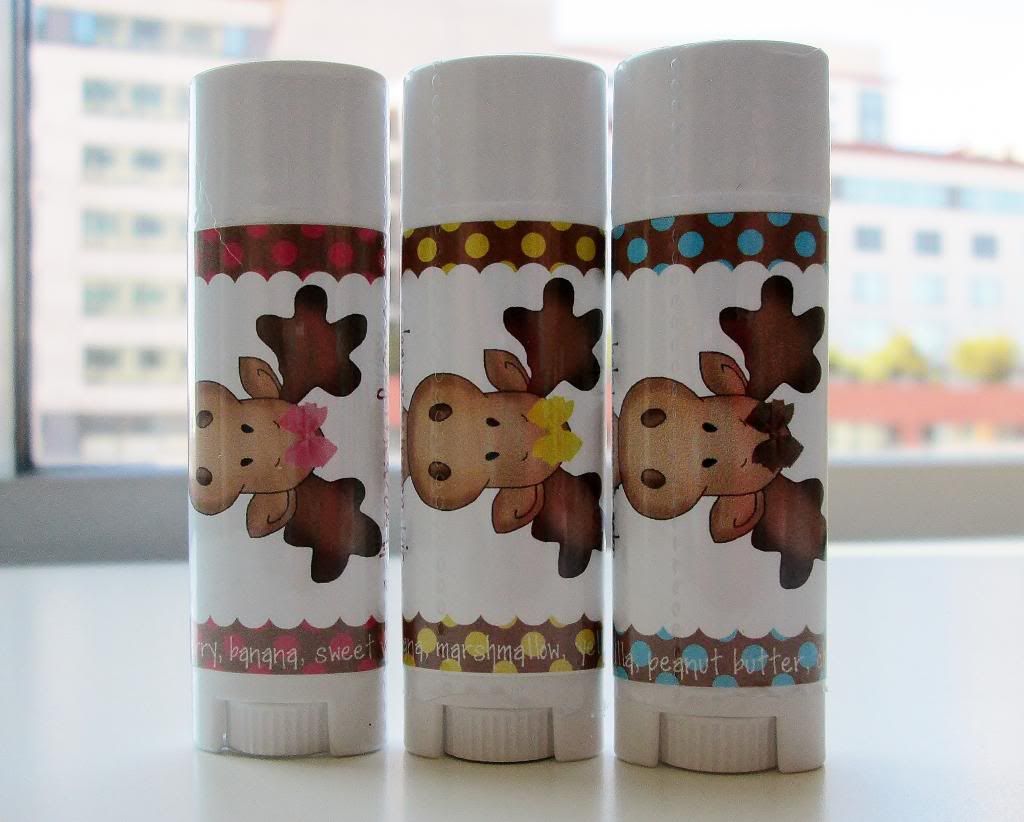 Company:
ForGoodnessGrape
Flavors:
Baby Moose Tracks, Baby Moose Smooches, and Banana Moose Pie. Before I even opened the little bag that comes in the package in the mail, I could smell the
Baby Moose Tracks
and I was so excited! It smells of salty and nutty peanut butter, rich chocolate, and creamy vanilla. Wow is it amazing! If you like peanut butter and chocolate (I know it's crazy to think that some people don't, but they exist *cough* Rob *cough*), then this balm is one for you! The
Baby Moose Smooches
is definitely one of my favorite balms ever. It smells of sweet, sweet strawberries and ripe banana with a touch of creamy vanilla. You haven't lived until you've tried this balm! (Okay, maybe that was a bit of an exaggeration, but I can't get enough of this balm!) The
Banana Moose Pie
is another one of my most favorite balms ever! I'm pretty much a sucker for a good banana balm and Lisa makes some of the best banana balms I've ever tried (and trust me, I've pretty much tried every one she has). This balm smells of ripe, sweet banana and gooey marshmallow combined with the scent of rich vanilla that really pulls everything together. LOVE this balm!
Wear:
Now as if the flavors weren't enough, the consistency of these balms is incredible; so incredible that I forced Rob to try it (you know he hates wearing lip balm) and even he couldn't deny how wonderful the consistency was. These balms are so, so soft and glide on like a dream (do these words even make sense?). They make my lips feel soft and moisturized instantly. They have the perfect consistency, creamy and soft, and not too thin or too thick.
Packaging:
These balms come in white oval tubes with a picture of a cartoon baby moose on the front. Each label has the flavor of the balm on the front underneath the moose and along the bottom of the tube (near the twisty) it says what flavors make up the balm, which I love because sometimes it's not obvious what a scent consists of.
Price:
$4 per tube which is totally worth it for one of these!
Overall
Pros:
Flavors, Wear, Packaging, Price
Cons:
Rating: 5 out of 5 twists. Seriously, if you haven't tried these new Baby Moose Lips, you're totally missing out! TRY THEM!
Ingredients: chamomile butter, sweet almond oil, kokum butter, organic cocoa butter, candelilla wax, apricot kernel oil, macadamia nut butter, castor oil, coconut oil, avocado oil, beeswax, organic rosehip oil, calendula extract, vitamin e, essential oil and/or flavor oil
Have you tried these new Baby Moose Lips balms? Which flavor is your favorite?