Hi everyone! I'm sorry this post was delayed today. Of course with all the bad luck I've been having lately, I should have assumed something would happen this week before the move while Rob was out of town. Last night I spent 3 hours with my cat in the emergency room. Most of it was just waiting in the waiting room to see the vet after the initial examination of my cat, then waiting for the vet in the examination room, and then waiting for the medication. The entire time we were there I only talked to the staff or the vet for about 15 minutes. I did not expect to be there until almost midnight. Last time I had to go to the emergency room with my cat we were in and out in about an hour. Blah, needless to say, I came home, gave him his medications, tried to eat something since I hadn't eaten in 10 hours and went straight to bed. Anyway, I'm hoping today will be less eventful because I don't think I can take anymore craziness before this move!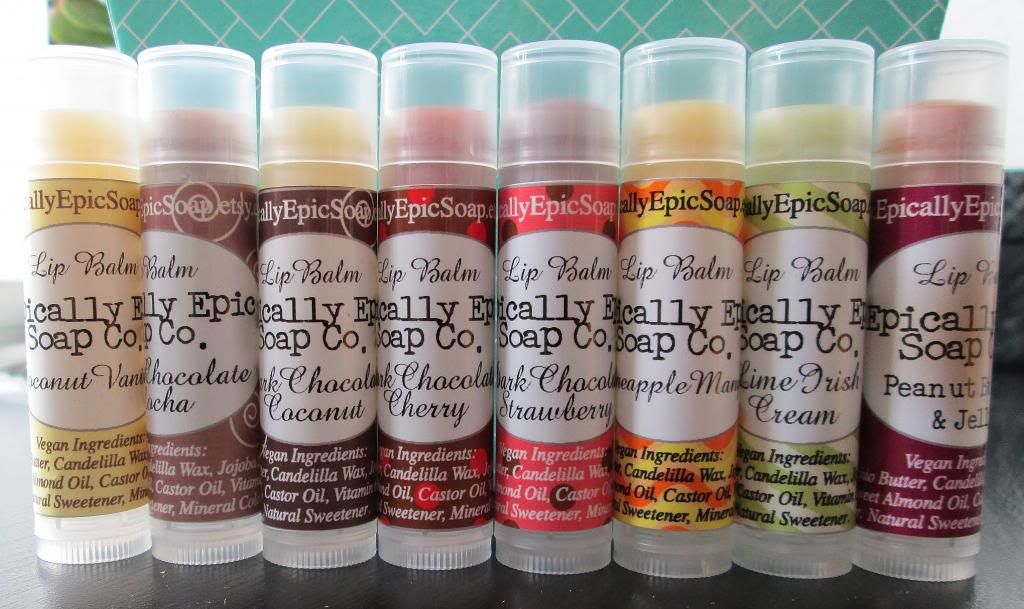 Company:
Epically Epic
Flavors:
Coconut Vanilla, White Chocolate Mocha, Dark Chocolate Coconut, Dark Chocolate Cherry, Dark Chocolate Strawberry, Pineapple Mango, Lime Irish Cream, and Peanut Butter Jelly. The
Coconut Vanilla
is a lovely, light scent of tropical coconut and warm vanilla. It's so mellow and calming, yet brightens up my day whenever I use it. The
White Chocolate Mocha
is amazing! It has the scent of rich mocha with a little bit of creaminess that is characteristic of white chocolate, so yummy! The
Dark Chocolate Coconut
has a light scent of rich dark chocolate and tropical coconut. The
Dark Chocolate Cherry
is very similar, it smells like ripe cherries covered in rich dark chocolate; super decadent and yummy! The
Dark Chocolate Strawberry
smells of dark chocolate dipped strawberries, pretty much a no-brainer and totally yum! The
Pineapple Mango
is probably one of my favorite balms from EE. It's bright pineapple combined with sweet mango, it's like a little tropical escape! The
Lime Irish Cream
is definitely something I've never had before, I'm still not entirely too sure what Irish Cream is supposed to smell like! It smells of of lime and creaminess and something else. It's really lovely! Okay, can I be honest about something here? I've never had a peanut butter and jelly sandwich in my life. I like both separately, but the thought of them together sounds really gross to me. My mom never wanted me to eat PB&J's when I was younger and she still thinks that that's something she'd never feed me. I don't even know if my sisters have ever had PB&J. Anyway, when I saw that Allison has included a tube of
Peanut Butter and Jelly
, I was so surprised and a little nervous because I didn't know what I'd think of it. This balm smells wonderfully of salty, creamy peanut butter and a sweet fruity jelly (after looking it up it's supposed to be blueberry-acai and it totally is!). This balm is crazy wonderful! But, I still don't think I'll be trying a PB&J any time soon.
Wear:
These balms glide on so beautifully and just go on so smooth. They're creamy and make my lips soft almost instantaneously. I really love the silky consistency of Epically Epic balms!
Packaging:
These balms come in your average sized lip balm tubes with labels that are colored to reflect the flavor of the balm. They're super cute and help make each balm stand out (unless you have over 60 EE balms, like I do, in one place, then it get's a little confusing).
Price:
$3.75 per tube which, trust me, is totally worth it!
Overall
Pros:
Flavors, Wear, Packaging, Price
Cons:
Rating: 5 out of 5 twists. I can honestly not recommend Epically Epic balms enough. I'm absolutely head over heels for them and anytime a new limited edition batch is released, I'm all over it! I've never used an Epically Epic balm that I didn't love.
Ingredients: Pistachio Butter, Jojoba, Sweet Almond Oil, Castor Oil, Vitamin E, Candelilla Wax, Flavor, Natural Sweetener
Have you tried these Epically Epic balms before? If not, what Epically Epic balms are your favorite?
**Don't forget to enter my giveaway for the new MixStix from ChapStick!**