It's been a little while since my last ForGoodnessGrape review, so I hope you guys are excited for today's post! I know my ForGoodnessGrape posts are pretty much always the longest posts because I always end up buying seven or more balms at a time. And yes, there are still flavors in Lisa's shop that I don't have that I have my eye on! (P.S. Have you guys seen how cute Lisa's new layout on her website is?)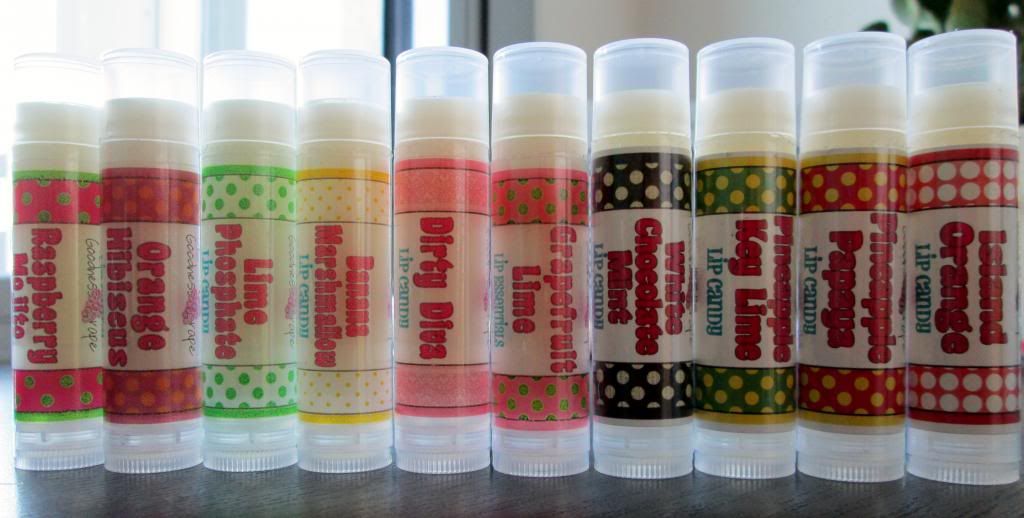 Company:
ForGoodnessGrape
Flavors:
Raspberry Mojito, Orange Hibiscus, Lime Phosphate, Banana Marshmallow, Dirty Diva, Grapefruit Lime, White Chocolate Mint, Pineapple Key Lime, Pineapple Papaya, Island Orange and Vanilla Lemon Lip Melts. Alright, brace yourself for these! The
Raspberry Mojito
has such a bright, lovely scent that's full of ripe raspberry, tart lime, and a little bit of mint. It smells just like a mojito! The
Orange Hibiscus
is one of my absolute favorite balms ever. If you've never tried a balm with hibiscus, you're missing out! This balm has the sweet, citrusy scent of orange combined with a candy-like scent added from the hibiscus. This is a super sweet and fruity balm! The
Lime Phosphate
smells just like lime soda, it has a bright lime scent that almost tickles my nose like the bubbles you get when you drink a freshly poured pop. The
Banana Marshmallow
has a candy-like banana scent combined with the subtle scent of ooey-gooey marshmallow. I'm pretty sure I have almost every single banana balm Lisa makes. The
Dirty Diva
has the sweet scent of ripe strawberries combined with a more mellow orange scent. The
Grapefruit Lime
is another one of my absolute favorites from FGG! It has the refreshing citrus scent of grapefruit combined with the tart and slightly sour scent of fresh lime, if you like citrus balms, you need to try this balm! The
White Chocolate Mint
smells absolutely amazing! This balm has the rich scent of white chocolate combined with cool, tingly mint...seriously what else could you ask for? The
Pineapple Key Lime
is such a unique and wonderful scent. This balm has the tropical scent of pineapple combined with creamy key lime. The
Pineapple Papaya
is another wonderful tropical balm. This balm is like a tropical paradise in a tube, combining the scents of fresh pineapple and tropical papaya. The
Island Orange
smells of warm tropical coconut and sweet orange, yet another balm that reminds me of a tropical getaway (which I could SO use right now). The
Lemon Vanilla
Lip Melts has a wonderful creamy and lemony scent. You know I'm a sucker for anything lemon and this definitely didn't disappoint!
Wear:
Everything goes on super smooth and they all make my lips feel nice and soft. The Lemon Vanilla Lip Melts has an amazing consistency. It's a whipped butter that is just heavenly! It's so light and fluffy and goes on my lips like a dream.
Packaging:
Each tube of FGG balm has a bright and colorful label that has colors that coordinate with the flavor of the balm. It really helps distinguish my FGG balms from one another, when you have as many as I do, anything to help differentiate tubes helps! The Lip Melts comes in a cute little jar that has a very plain and simple label that reminds me of products you'd find in a spa or anywhere else you'd buy high end bath & body products.
Price:
Balms $3.75 to $4.25 and Lip Melts are $8.50. The balms are totally within my price range and more than worth the price. I know the Lip Melts are more expensive, which is why it took me so long to finally get around to buying one, but you get 0.5oz of product (a normal lip balm tube has .15oz) so you're getting 3 times the product which makes $8.50 not seem so expensive! Also, Lisa has tons of sales pretty frequently which is super great, so you can definitely use that to your advantage if you think her prices are too high.
Overall
Pros:
Flavors, Wear, Packaging, Price
Cons:
Rating: 5 out of 5 twists. I love all of the lip product lines that Lisa comes up with, if you couldn't tell by now, I think she makes some pretty amazing balms! Seriously, go try one or five, you won't regret it.
Ingredients:
Balms-Shea Butter, Cocoa Butter, Mango Butter, Sweet Almond Oil, Beeswax, Jojoba Oil, Coconut Oil, Castor Oil, Vitamin E, Fragrance
Lip Melts-(all organic ingredients)butyrospermum parkii (Shea Butter) fruit, theobroma cacao (Cocoa) seed butter, helianthus annuus (Sunflower) seed oil, cucurbita pepo (Pumpkin) seed oil, olea europaea (Olive) Oil, rosa canina (Rosehip) fruit oil, ricinus communis (Castor) seed oil , oenothera biennis (Evening Primrose) oil, euphorbia cerifera (Candelilla) wax, tocopherol (natural Vitamin E), essential oils.
Have you tried any of these balms before? What did you think of them? Which FGG balms are your favorites?
**Don't forget to enter my giveaway for the new MixStix from ChapStick!**