Hi all! I know this review is long overdue, I received these balms in June, so I hope you're ready for it! I wanted to make sure I got this one up for you guys before the next installment of this subscription comes. I love all of my lip balm subscriptions, and my LWF one is no different!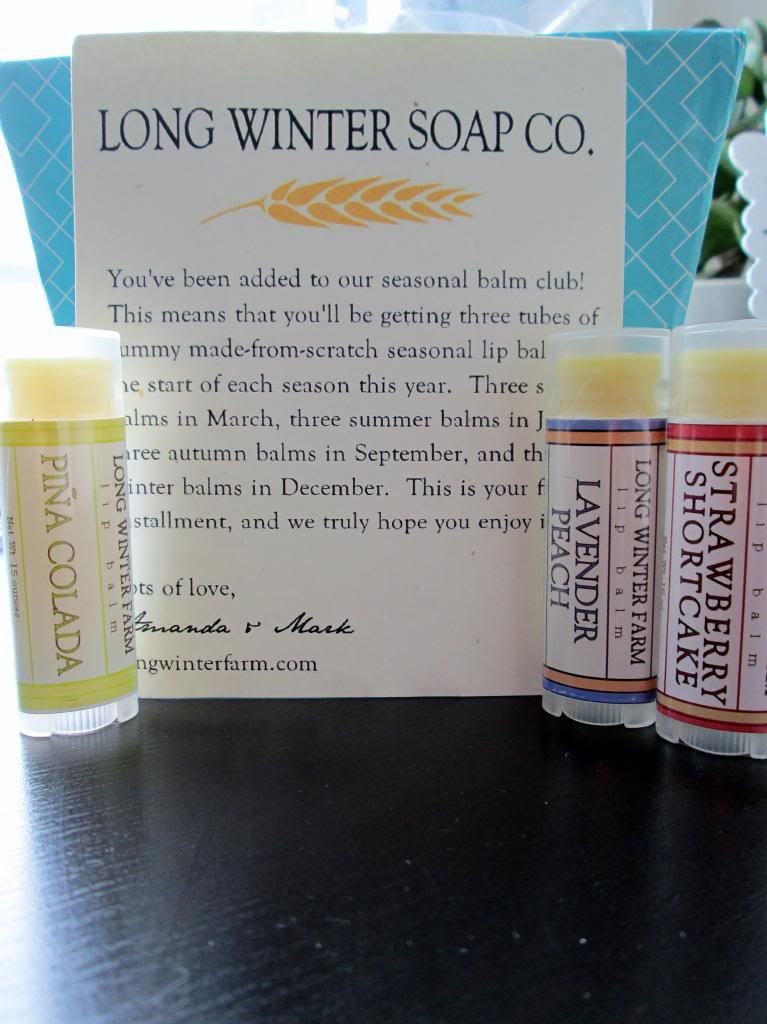 Company:
Long Winter Farm
Flavors:
Pina Colada, Lavender Peach, and Strawberry Shortcake. The
Pina Colada
has a mellow, tropical scent of warm coconuts and sweet pineapple. It's a lovely, lightly scented balm that is definitely not overbearing. The
Lavender Peach
was definitely one I wasn't sure if I'd like or not, it's such an interesting scent and I'm not a huge fan of lavender. This one has a strong scent of ripe, sweet peaches and lavender. It smells really lovely, but I'm just not a fan of lavender. What's really interesting is that when I smell this balm the scents almost come in waves, first I smell super, sweet peaches and then I smell lavender, and then I smell peach, and then I smell lavender. It's so unique! If you like fruity and floral balms, this is one you should try! The
Strawberry Shortcake
smells amazing! It smells of ripe, sweet strawberries and cake; it's sooooo yummy! This is probably one of my most favorite LWF balms.
Wear:
These balms go on super smooth and creamy, if you haven't tried a Long Winter Farm balm before, you're missing out on one of the best lip balm consistencies ever! These balms go on thick without being too thick and are just heaven on my lips.
Packaging:
These balms come in lovely oval tubes with labels that have the flavor of the balm right on front. The labels are also colored to reflect the flavor of the balm.
Price:
$4 a tube which is totally worth it for one of these balms!
Overall
Pros:
Flavors, Wear, Packaging, Price
Cons:
Rating: 5 out of 5 twists. You really can't go wrong with any Long Winter Farm balm and I'm super excited to see which balms I'll get next month!
Ingredients: Natural Beeswax, Sweet Almond, Grapeseed & Jojoba Oils, Cocoa & Unrefined Shea Butters, Vitamin E, Flavor Oil
Have you signed up for the seasonal lip balm subscription from Long Winter Farm? If you have, what did you think of the balms?