Hi all! I'm so sorry that there wasn't a post yesterday. Rob and I spent the majority of Sunday trying to plan out our move and everything we need to do for it, it took us over 3 hours just to figure out flights. Then we spent the rest of the day doing laundry and trying to get him packed up for this week (he flew into Seattle yesterday morning), and I just ran out of time and energy to get a post up. I wanted to make sure I had a post for you guys today even if it was a little bit later than usual. I hope you'll enjoy!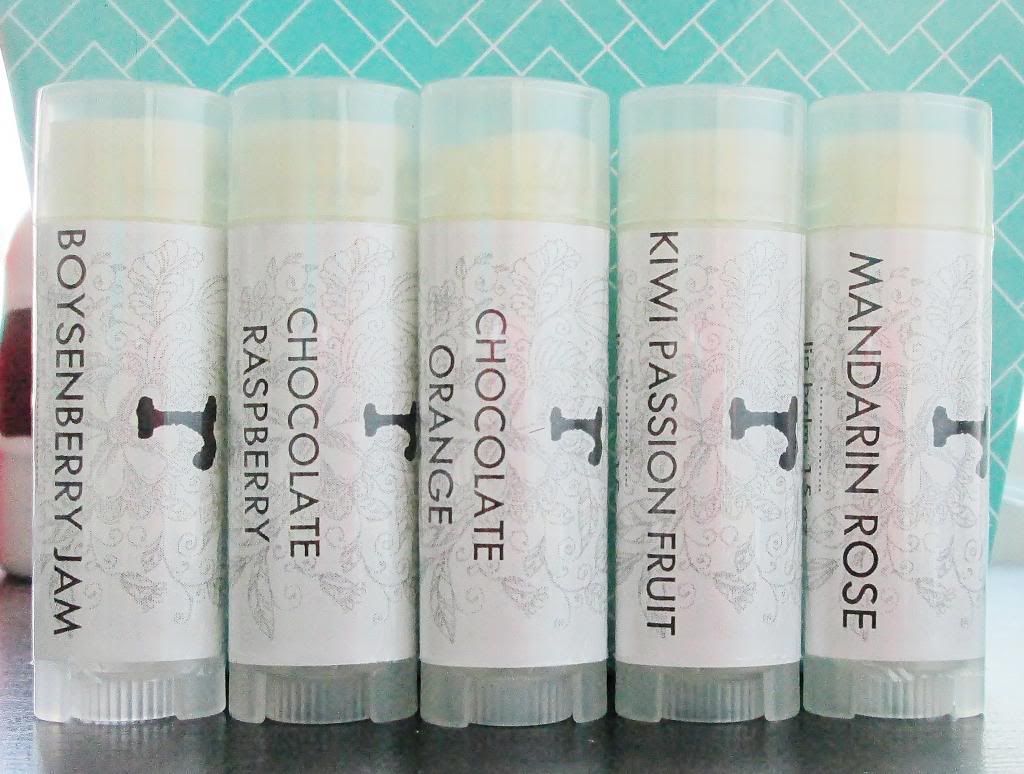 Company:
Ripe Shop
Flavors:
Chocolate Orange, Chocolate Raspberry, Kiwi Passion Fruit, Boysenberry Jam, and Mandarin Rose. The
Chocolate Orange
smells incredible! It's rich chocolate combined with sweet orange, it reminds me of those chocolate balls my Dad would bring home. You know the kind that were shaped like oranges and you knocked them on something to have them fall apart? It smells just like that! The
Chocolate Raspberry
is also incredible. Instead of sweet orange, you've got ripe raspberry combined with rich chocolate; this one is Rob's favorite. The
Kiwi Passion Fruit
is definitely a flavor I've never tried before. It smells of sweet, ripe kiwis blended with the tropical and exotic scent of passion fruit. It's very light and sweet. The
Boysenberry Jam
smells just like you think it would, of sweet ripe berries. This one is definitely a balm that reminds me of summer, I mean come on, summer isn't summer without some delicious berries! The
Mandarin Rose
was one I was definitely surprised I liked, especially because I typically don't like anything floral. This one has the sweet citrus scent of mandarin combined with the scent of sweet rose. It's really wonderful!
Wear:
These balms glide on super smooth and melt right into your lips. You really need to be careful though on your first uses of a tube, these balms are super delicate and if I push with the same force I do as my other balms, I usually end up with this balm in chunks on my lips and in my mouth (Unfortunately, these don't taste as good as they smell!). So be a little more gentle with these balms.
Packaging:
These come in oval tubes with black and white labels. The flavor of the balm is stated right on front which makes it easy to distinguish each balm from one another. These labels are very clean, simple, and made a little elegant by the design that is now in the background of the label.
Price:
$4 per tube, or 2 for $7, or 3 for $10.50 which is definitely a steal for one of these balms!
Overall
Pros:
Flavors, Wear, Packaging, Price
Cons:
Rating: 5 out of 5 twists. I really love Ripe Shop balms and I'd definitely recommend that you try one (or more)!
Ingredients: Sweet Almond Oil, Coconut Oil, Beeswax, Avocado Oil, Cocoa & Shea Butters, Vitamin E, Flavor
Have you tried these Ripe Shop balms before? What did you think of them?
**Don't forget to enter my giveaway for the new MixStix from ChapStick!**