Hi all! A few weeks ago, Liz over at Balm Chicky Balm Balm contacted me to see if I'd be interested in trying some of her balms. When Liz told me that her brand was "a 70's inspired lifestyle brand that will leave your lips totally satisfied", I was super intrigued so of course, I said yes and I'm so glad I did! These balms are super unique and fun in a kinda sexy kind of way (yeah, that's how I'm describing them!). These balms are probably more playful than what you're used to...well...you'll see what I mean.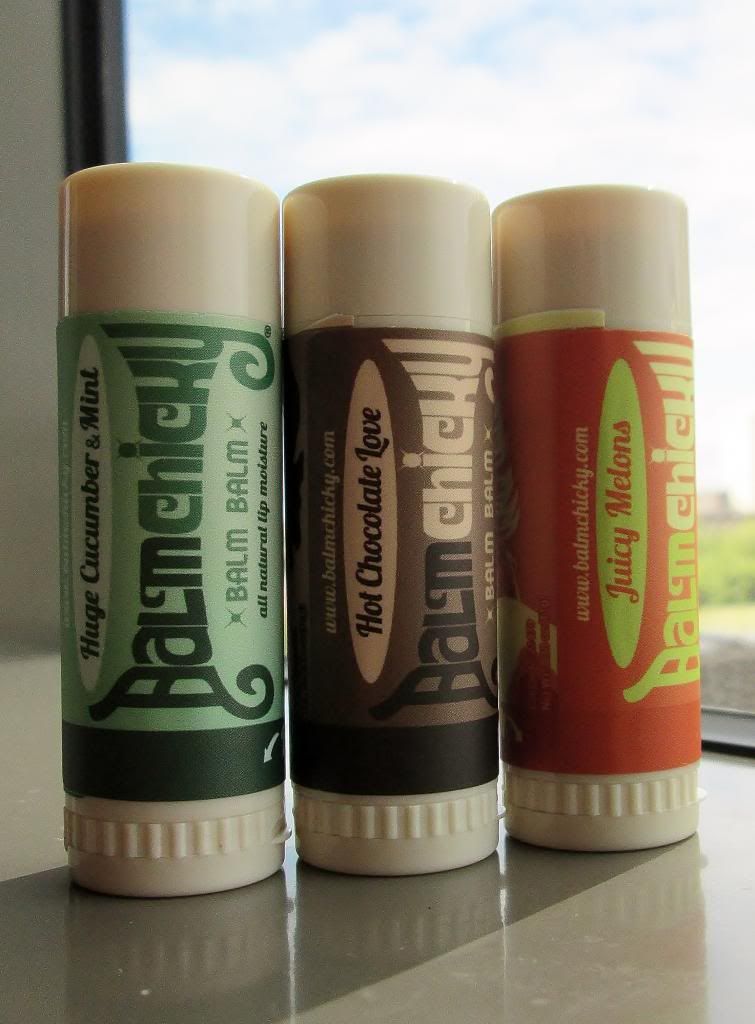 Company:
Balm Chicky Balm Balm
Flavors:
Hot Chocolate Love, Juicy Melons, and Huge Cucumber. Yes, read those again. I told you, more playful than what you're used to! Don't let that throw you off though, these balms are amazing. The
Hot Chocolate Love
smells of super rich milk chocolate, chocolate lovers, you'll probably want to pick yourself up one of these. The
Juicy Melons
smells of sweet cantaloupe, it's not an overpowering scent which is super nice. Just a light, sweet, ripe melon scent, yum! My absolute favorite though has got to be the
Huge Cucumber
. It smells of tingly spearmint and lightly of of cucumber. Your lips will definitely feel cool as a cucumber with this balm on them! This is definitely one for you if you like mint! They also carry two other flavors, Sweet Baby Ginger and Wild Mountain Honey.
Wear:
These balms go on beautifully! They glide on easily and aren't too greasy, oily, or too creamy. They go on smooth and a little goes a long way. Honestly these balms have a wonderful consistency that isn't too thick or too thin, but one or two swipes and you've got yourself some great lip protection. My lips feel so soft and moisturized after wearing one of these balms.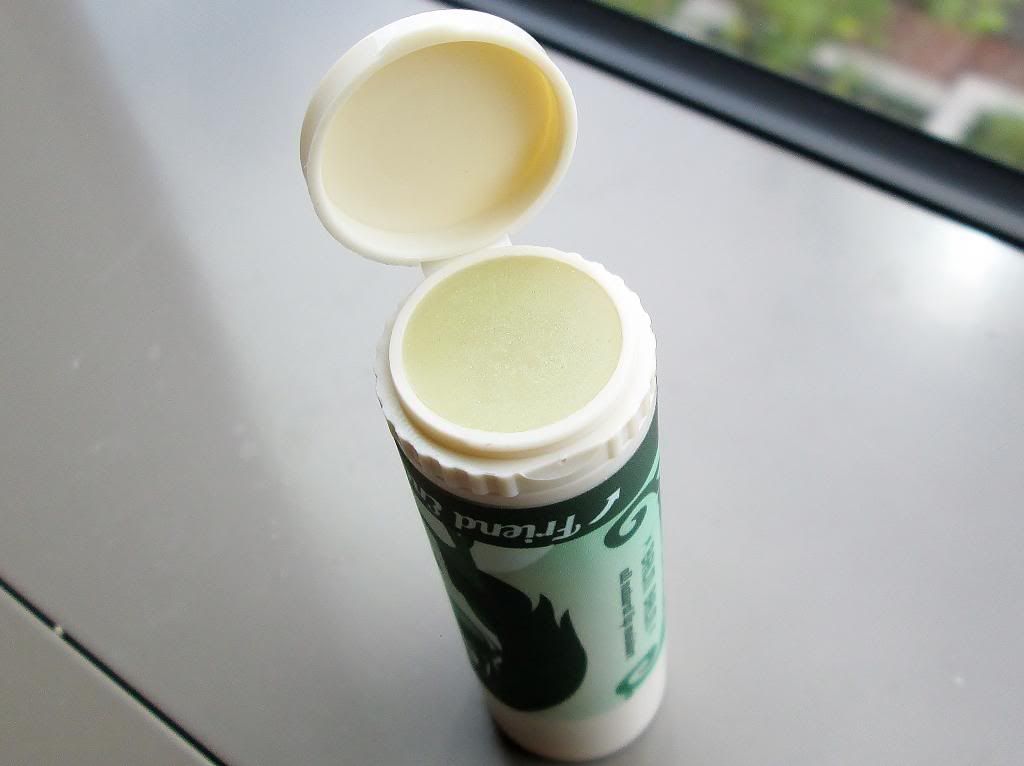 Packaging:
Okay this is where some really cool stuff happens. Balm Chicky Balm Balm has a specially designed tube with their patented Friend End. First off, let me tell you that these tubes are HUGE, they contain about three times more balm than your average lip balm tube. Then comes the Friend End. On the opposite side of where you put on your balm, there's a tiny pot of balm with a flip cap! This end is perfect for when a friend wants to use your balm, but you don't really want to share mouth germs (yeah, I actually use the term "mouth germs" a lot in every day life, I wish I was kidding, but I'm a bit of a germaphobe). Being the germaphobe that I am, I loved the idea of a Friend End! I'd just make my friends wash their hands or use antibacterial before I let them stick their fingers in the pot, but still a great idea for people who aren't huge germaphobes like me. The packaging and the flavors are just so unique!
Price:
These balms are a bit pricier than what you'd pay for one tube of balm, but you have to remember you're paying for about 3 tubes of balm when you buy one of these! These tubes are usually $12 each, but Liz was generous enough to offer my readers a special discount! You can use code "wrangler" to get each tube for $6.69 which is almost 50% off!
Overall
Pros:
Flavors, Wear, Packaging, Price
Cons:
Rating: 4.5 out of 5 twists. These balms are super unique and really fun. I'm SO glad to have these balms as part of my collection. The balms are definitely different from your usual balms, but in a good way! I'd definitely recommend trying one of these balms! Oh, did I mention these balms are all natural and organic? Yeah, talk about a bonus!
Ingredients: Extra virgin olive oil, palm oil and hemp seed oil, beeswax, rosemary and vitamin E combine with the sweet scent of ripe melon
Have you ever heard of Balm Chicky Balm Balm before? Which balms are you most intrigued by?
----------------------------------
These balms were provided complimentary to me by Liz at Balm Chicky Balm Balm, however, all opinions are strictly my own. Thank you so much for the wonderful opportunity, Liz!