Is this really my 13th Epically Epic review? Holy cow! And you know I'm not even done yet, I've got a few more Epically Epic balms to go! You also know that I'm always looking out for when Allison comes out with new flavors, so I think my Epically Epic collection will continue to grow which means more Epically Epic reviews will be written. I hope you guys enjoy =).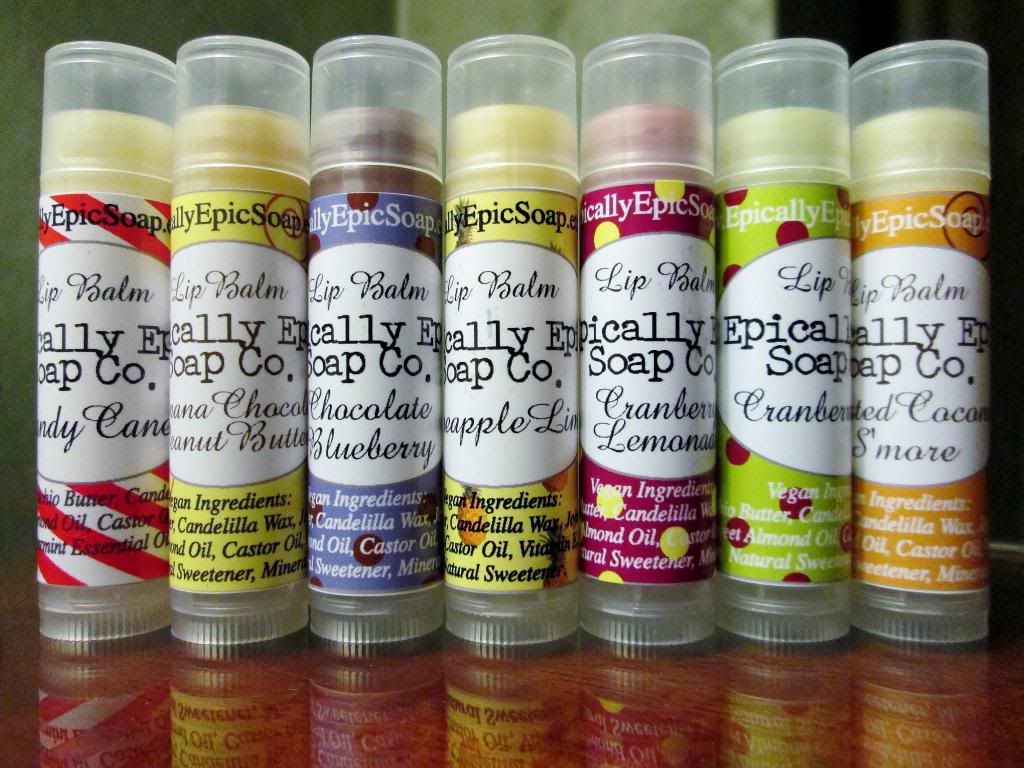 Company:
Epically Epic
Flavors:
Cranberry Lemonade, Chocolate Blueberry, Banana Chocolate Peanut Butter, Pineapple Lime, Cranberry Lime, Toasted Coconut S'more, and Candy Cane. The
Cranberry Lemonade
smells of tart cranberries combined with sweet lemonade, a very yummy and interesting take on a lemonade balm. The
Chocolate Blueberry
smells decadent and rich, it smells of rich chocolate over ripe, sweet blueberries. It's just lovely! The
Banana Chocolate Peanut Butter
smells exactly like I was hoping it would! Sweet, ripe bananas combined with rich chocolate and sweet and salty peanut butter. It smells just like one of my favorite snacks! The
Pineapple Lime
smells of sweet, tropical pineapple combined with tangy, sour limes. This one is fruity and delicious! The
Cranberry Lime
smells of tart cranberries and sweet, tangy, and sour limes. This one has a lighter scent, so if you're not into strong scents, this one is for you! The
Toasted Coconut S'more
smells seriously amazing! It smells of toasted tropical coconut (which by itself already smells amazing) combined with chocolate, marshmallow, and graham cracker. Seriously, the next time I make s'mores, I'm putting some coconut on it. The
Candy Cane
is so minty and tingly and just all around perfect. It's one of my favorite balms from EE ever.
Wear:
These balms go on SMOOTH, seriously, they melt right onto your lips which makes application a breeze. These are a little more on the oily side, but they're still creamy and wonderful. They really make my lips feel wonderful! The consistency of Epically Epic balms is definitely one of my favorites.
Packaging:
These come in your average lip balm tubes with really cute labels! Each label has colors that reflect the flavor of the balm, but they each also have a design on them pertaining to each balm. For example, the candy cane one is striped red and white, some of them have polka dots, some have images of the fruit in the background. They're all pretty cute!
Price:
$3.75 per tube which is a steal!
Overall
Pros:
Flavors, Wear, Packaging, Price
Cons:
Rating: 5 out of 5 twists. If you don't know by now how much I love Epicaly Epic balms, go and read a few more of my Epically Epic reviews and maybe you'll see. They're wonderful and some of my favorites of all time. If you haven't tried them yet, get to it!
Ingredients: Pistachio Butter, Jojoba, Sweet Almond Oil, Castor Oil, Vitamin E, Candelilla Wax, Flavor, Natural Sweetener
Have you tried Epically Epic balms yet? What did you think?