Hi all! Happy Tuesday! It's certainly been a long while since
my first Firebird Bath & Body review
. Did you know that
Firebird Bath & Body
was the very first shop I ever bought from on Etsy? Followed by Long Winter Farm, Orange Thyme, and Lemon Citrus (this shop is no longer around which is sad =(). Anyway, I'm not sure why it took me so long to get my hands on some more balms from Firebird, probably because I was looking for a sale which just happened to be why I was able to stock up on some of these (and some of her perfume oils). Enjoy!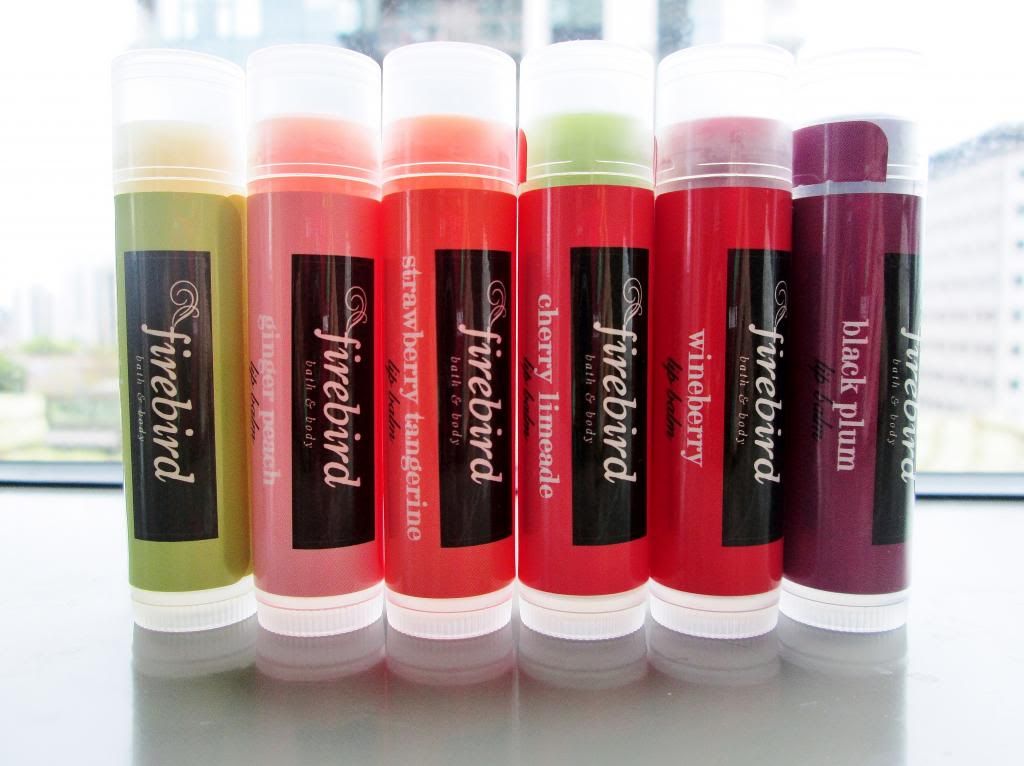 Company:
Firebird Bath & Body
Flavors:
Coconut Lemongrass, Ginger Peach, Strawberry Tangerine, Cherry Limeade, Wineberry, and Black Plum. The
Coconut Lemongrass
smells amazing, tropical coconut combined with herbal-y lemongrass, I don't think herbal-y is the right word. I just can't describe it! This always smells like candy to me, but this particular version isn't as sweet as most others I've used. The
Ginger Peach
is one of my favorites! I mean seriously, how can you go wrong with ripe, sweet peaches and warm ginger? You can't! The
Strawberry Tangerine
is another one of my favorites (okay, so maybe they're all my favorites?). This one smells of ripe, juicy strawberries and bright, slightly sour tangerine. This one is mellow and fruity and just lovely. The
Cherry Limeade
,
as I mentioned yesterday
, smells of sweet, delicious cherries and tangy, slightly sour lime. The
Wineberry
is something I've never had before. It smells of deep, intoxicating berries; like super rich and decadent with a little bit of sweetness. The
Black Plum
is probably the most lightly scented of the bunch, it smells of plums, but it's not crazy sweet or overpowering.
Wear:
These balms glide on SUPER smooth. They're not as creamy or oily as some other balms I usually use, they have a different type of consistency all together. They kind of feel a little stickier than my usual balms, but at the same time, you can't really call it sticky. They make my lips super soft and provide a nice shield of protection for my lips. Maybe they just go on a little thicker than my other balms. I don't know, whatever the case may be, the consistency of these balms rocks!
Packaging:
These come in your average sized lip balm tubes, each with a label colored to coordinate with the flavor of the balm. The shop's name is clearly printed on front with the flavor of the balm right beneath it. These labels are the waxy kind which I love because I don't have to worry about them getting scratched or torn like my other ones (I usually have to be very diligent about ripping off the shrink wrap on my balms, I ripe them so that only the part covering the cap comes off and the part covering the twisty comes off. That way the label is protected.). I love the simplicity in how these labels were designed.
Price:
$3.50 per tube which is a heck of a deal! At that price point it's easy to try at least two or three balms.
Overall
Pros:
Flavors, Wear, Packaging, Price
Cons:
Rating: 5 out of 5 twists. Even though it's been a REALLY long time (like a year and a half) since the last time I tried these balms, they really didn't disappoint. They were just as good as I remembered. I'd definitely recommend trying one, two, or a few if you're curious!
Ingredients:apricot (prunus armeniaca) kernel oil, caprylic/capric/stearic glycerides, beeswax, cocoa (theobroma cacao) butter, castor (ricinus communis) oil, candelilla (euphorbia cerifera) wax, shea (butyrospermum parkii) butter, jojoba (simmondsia chinensis) oil, flavor, color
Have you tried Firebird Bath & Body balms before? What did you think of them?