Okay, so I really love Epically Epic balms, if you couldn't tell already. I'm pretty sure I have other Epically Epic balms that need to be reviewed before these ones, but it's Fall and these are Fall balms so it only makes sense that they're reviewed early so you can get them yourself and enjoy them during the greatest season of the year!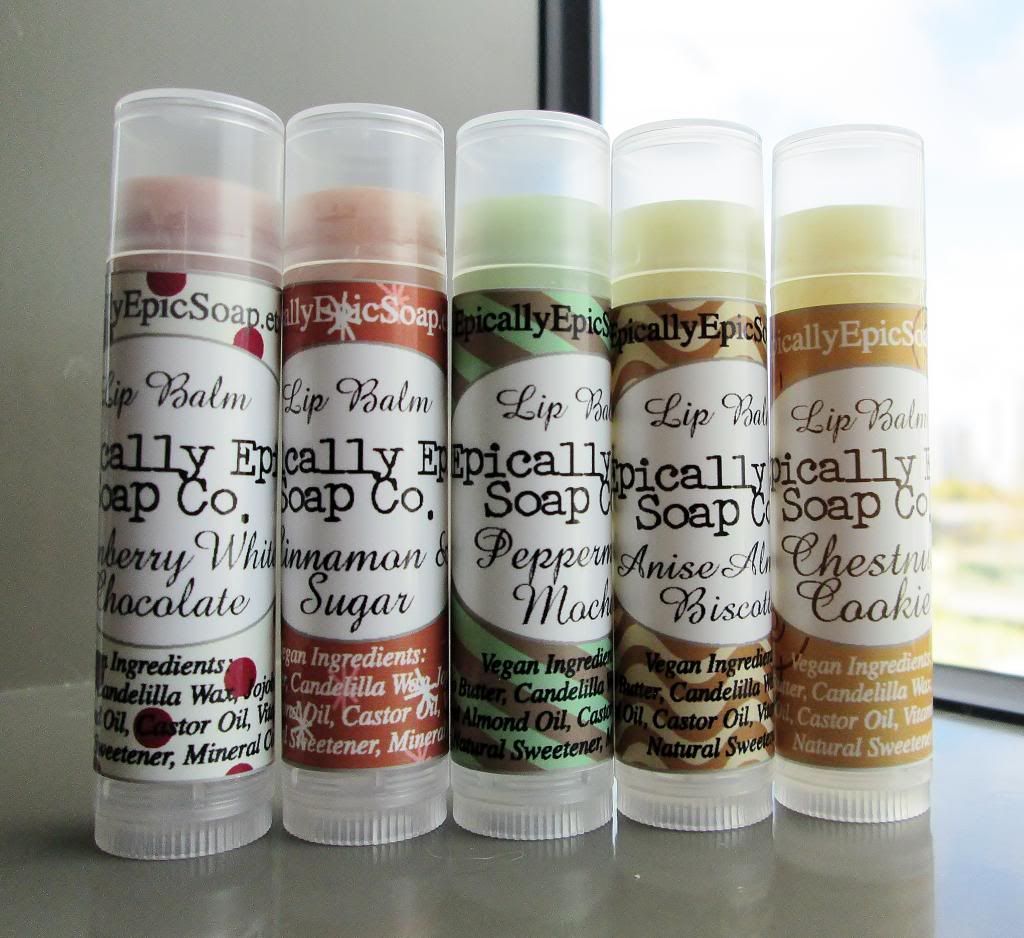 Company:
Epically Epic
Flavors:
Peppermint Mocha, Anise Almond Biscotti, Chestnut Cookie, Cranberry White Chocolate, and Cinnamon & Sugar. The
Peppermint Mocha
like I said yesterday, is a perfect combination of cool, tingly mint and rich chocolate. If you like those Thin Mint Girl Scout cookies, you're definitely going to like this one! The
Anise Almond Biscotti
was one I wasn't sure about, I don't think I'm a fan of anise, but also I don't know if I'm a fan of it or not or what it smells like, I think it's licorice? Anyway, Allison included this one with my order so I was excited to try it! I definitely smell that delicious almond biscotti scent that is just so reminiscent of my childhood (I ate a lot of chocolate covered almond biscotti when I was younger). I'm not sure what anise smells like, but there is definitely something else in there besides the scrumptious almond biscotti scent. This balm is super yummy! The
Chestnut Cookie
has such a super rich aroma to it, it literally just fills up my uh nose? That sounds weird, but seriously I feel like my nose is being cloaked in the most delicious nutty scent. I can definitely smelly rich vanilla and warm, gooey caramel combined with the delicious scent of nuts. Seriously, Allison is cranking out some delicious stuff for Fall! The
Cranberry White Chocolate
smells of rich, creamy white chocolate combined with tart cranberries. But, what's funny is sometimes when Rob and I sniff this one, it smells kind of like lemons. Which I'm not complaining about either, because I love lemon anything! But I think we're just a little under the weather lately and that's why it smells like lemons sometimes. The
Cinnamon & Sugar
smells spicy and sweet, a little kick from the cinnamon (which I wish I could put on everything, it's seriously like my most favorite thing in the world) and sugary goodness. This one will definitely be perfect for the holidays, it just reminds me of cooler weather and Christmas.
Wear:
These balms go on beautifully. They go on smooth and a little slick, while still maintaining a bit of creaminess. A little goes a long way with these, but I tend to go around around my lips because they go on so smooth.
Packaging:
These balms come in your average lip balm tube and have super cute and festive labels! I love the way Allison designs her labels now (not that I didn't love how she did them in the past), each label has a different pattern and color combination to correspond to the flavor of the balm. They're just too cute! These would be perfect as a gift set for the holidays, especially if you include any of the other seasonal/holiday balms Allison has in her shop right now.
Price:
$3.75 per tube which is totally worth it for one of Allison's wonderful balms!
Overall
Pros:
Flavors, Wear, Packaging, Price
Cons:
I can't eat them?
Rating: 5 out of 5 twists. Okay, go get some Epically Epic balms. Do I need to do anymore convincing? Let me summarize all 14 of my Epically Epic reviews: every balm has been amazing and there are so many to choose from! I'm kind of obsessed with EE balms and I don't see that stopping anytime soon.
Ingredients: Pistachio Butter, Jojoba, Sweet Almond Oil, Castor Oil, Vitamin E, Candelilla Wax, Flavor, Natural Sweetener
Have you tried Allison's new Fall flavors yet? Which ones are your favorites?