Hi all! I hope you're having a wonderful day! I've had these balms for a while now, and meant to review them before
I reviewed FGG's Baby Moose Lips
, but those were seriously too incredible to not review right away. So now it's time for these! I hope you enjoy!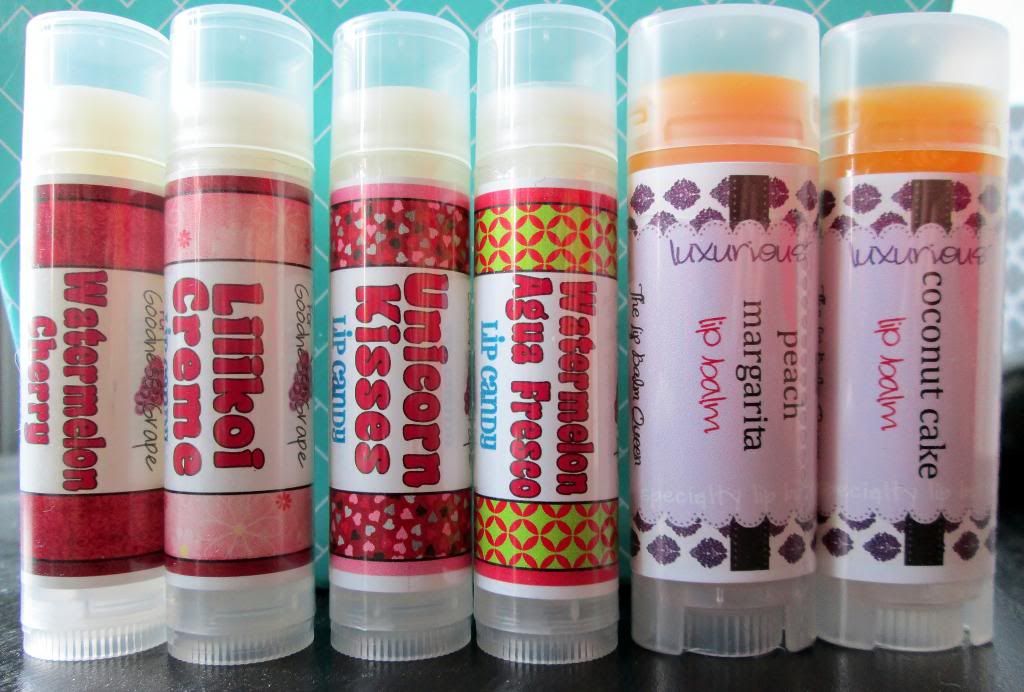 Company:
ForGoodnessGrape
Flavors:
Watermelon Aqua Fresco, Unicorn Kisses, Watermelon Cherry, Lilikoi Cream, Coconut Cake, and Peach Margarita. The Coconut Cake and Peach Margarita are part of FGG's
The Lip Balm Queen line
. The
Watermelon Aqua Fresco
smells of sweet, juicy watermelon and sour lime with an added sweetness. It smells wonderfully sweet and fruity! The
Unicorn Kisses
is super awesome! It smells of sugary cotton candy and blue raspberry! It's sweet and candy like and just wonderful. Although it is sweet, it's not a cloying, overpowering sweetness, just in case you're worried it's too strong. The
Watermelon Cherry
is a combination of sweet, ripe cherries and juicy watermelon, but a bit heavier on the cherry note. I think I've said before that the
Lilikoi Creme
is like a sophisticated, grown up version of strawberries and cream. It smells of tropical, fruity passion fruit blended with sweet cream. It's absolutely delicious! The
Coconut Cake
smells like warm, baked coconut. It doesn't smell like toasted coconut or just plain coconut, but it definitely smells like a coconut baked good. The
Peach Margarita
smells exactly like you think it would! The main component I detect is ripe, juicy peaches followed up by a little bit of sour lime. This one smells wonderful!
Wear:
The balms from the normal FGG line go on super smooth and creamy, they really go on beautifully. My lips feel super smooth and moisturized when I use one of these balms. The balms from the Lip Balm Queen line also go on even smoother than the normal FGG balms, like it's almost as if they melt into your lips as you go. The consistency is definitely different, a little more slick but not like super oily. It's hard to describe, it's a little less creamy and little more oily, but the moisturizing feels even better than the normal FGG balms.
Packaging:
The normal line comes in your average lip balm tube and the Lip Balm Queen line comes in oval tubes. The labels on the normal line's tubes usually have colors that reflect the flavor of the balm as well as the flavor of the balm right on front in big, readable letters. The Lip Balm Queen labels are typically a purple label with the flavor of the balm written in the middle.
Price:
About $3.75 for the normal line and $5 for the Lip Balm Queen line. Both prices are pretty reasonable for the product you're getting. The Lip Balm Queen line costs a bit more because it's made with higher quality ingredients. If you think the prices are out of your price range, Lisa has sales all the time so you could definitely take advantage of one of those!
Overall
Pros:
Flavors, Wear, Packaging, Price
Cons:
Rating: 5 out of 5 twists. These balms are wonderful! I'm a huge fan of FGG balms and all of the lines that Lisa comes up with, and there's a bunch. She seriously has something for all of your needs, wants, and desires! If you couldn't find ONE product or scent you like from her, I'd be amazed because I haven't found one thing from her shop I didn't like!
Ingredients:
Normal FGG balms: Shea Butter, Mango Butter, Cocoa Butter, Sweet Almond Oil, Beeswax, Jojoba Oil, Coconut Oil, Castor Oil, Vitamin E, Fragrance
Lip Balm Queen balms: Chamomile Butter, Organic Palm Oil, Murumuru Butter, Beeswax, Apricot Kernel Oil, Shea Oil, Sea Buckthorn Oil, Vitamin E, Flavors and/or Essential Oils
Have you tried Lisa's The Lip Balm Queen line yet? What about her normal line? What did you think of them?