Hi everyone! I hope you're having a great week so far! I apologize for my absence yesterday, but we got in late Sunday night and I was so exhausted from the no sleep we got all weekend and just fell asleep when we got home. This post almost didn't get written up because I fell asleep at 9:30 pm last night, but I woke up and snapped out of it. I'm clearly still exhausted and trying to recover from the lack of sleep this weekend and we didn't even go that crazy this trip! Anyway, how about another ForGoodnessGrape review?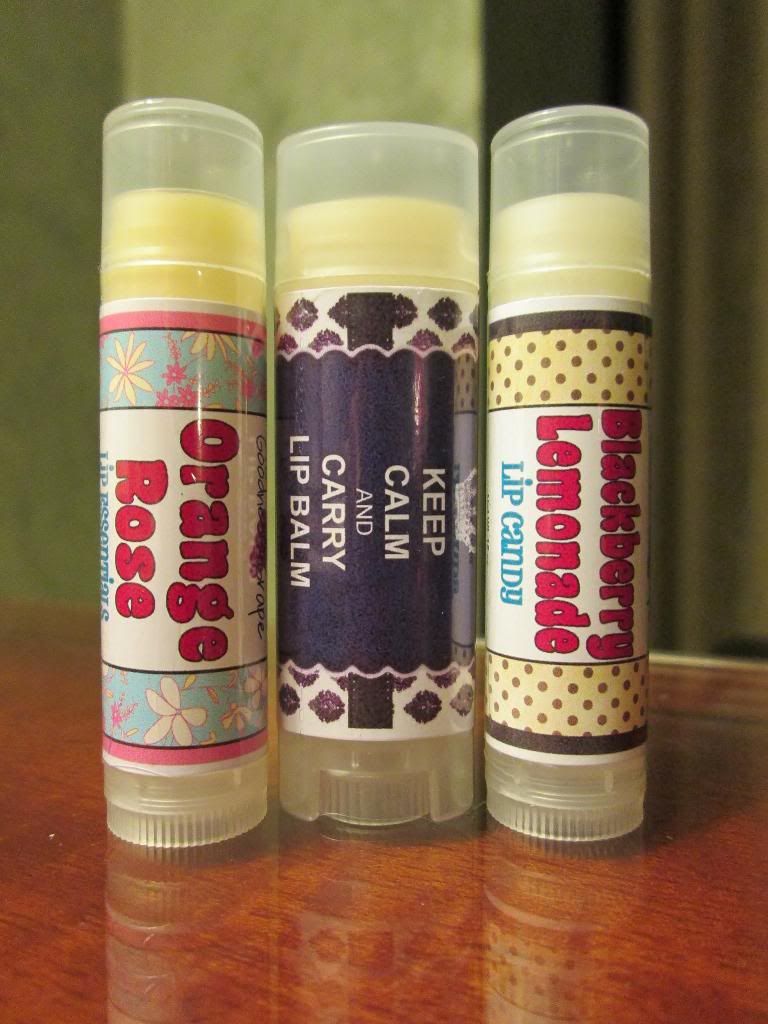 Company:
ForGoodnessGrape
Flavors:
Blackberry Lemonade, Orange Rose, and Keep Calm and Carry Lip Balm. The
Blackberry Lemonade
smells amazing. It consists of ripe, tart blackberries and sweet, slightly sour lemonade. Overall it is a sweet, fruity scent that is just lovely. The
Orange Rose
is one I was surprised I liked since I'm still not a huge floral fan (despite having about three or four floral balms in my collection now). This one smells of fresh, sweet rose and bright, sweet oranges. It's a unique and refreshing scent. The
Keep Calm and Carry Lip Balm
has a very light, clean, soothing scent. It smells very faintly of lavender and vanilla, if you like balms that aren't too strong in scent, this one is for you! This is a balm that could definitely keep me calm.
Wear:
All of these balms go on super smooth and glide on without a problem, but the Keep Calm and Carry Lip Balm is so much dreamier than Lisa's usual formula. It's from her 'The Lip Balm Queen' line which is made with specialty butters that really just make me lips feel amazing. My lips feel incredibly soft when I wear it. The other two also make my lips super soft...so I guess what I'm saying is you really can't go wrong with either formula (or any of Lisa's other formulas, they're all seriously amazing).
Packaging:
The balms made from Lisa's normal formula come in your average lip balm tubes and the Keep Calm and Carry Lip Balm comes in an oval tube. Each label has the flavor of the balm right on the front of it with a color scheme that corresponds to the flavor of the balm.
Price:
A tube of the Keep Calm and Carry Lip Balm is $4.50 and the other two are $3.75 (I believe, these aren't on the website right now, but her normal formula starts at about $3.75). Both prices are pretty reasonable! The KCCLB balm costs a little more because of the higher quality butters used in the formula, totally worth it!
Overall
Pros:
Flavors, Wear, Packaging, Price, Variety of Formulas
Cons:
Rating: 5 out of 5 twists. These balms are awesome! I can't recommend FGG balms enough, they're some of my favorites! With so many different flavors and formulas to choose from, how could you resist?
Ingredients:
Keep Calm and Carry Lip Balm: Shea Butter, Sweet Almond Oil, Apricot kernel oil, Avocado Oil, Candelilla Wax, Coconut Oil, Kokum Butter, Soy Bean Oil, Vitamin E, Flavors and/or Essential Oils.
Regular Formula: Shea Butter, Mango Butter, Cocoa Butter, Sweet Almond Oil, Beeswax, Jojoba Oil, Coconut Oil, Castor Oil, Vitamin E, and Fragrance.
Have you tried any balms from FGG yet? Which ones are your favorites? Which formula is your favorite?