Happy Saturday, everyone! I hope you're having a wonderful day! I'm excited to share with you today the balms I received as my second installment of my
Long Winter Farm Four Seasons of Lip Balm
subscription. These balms are totally perfect for Fall!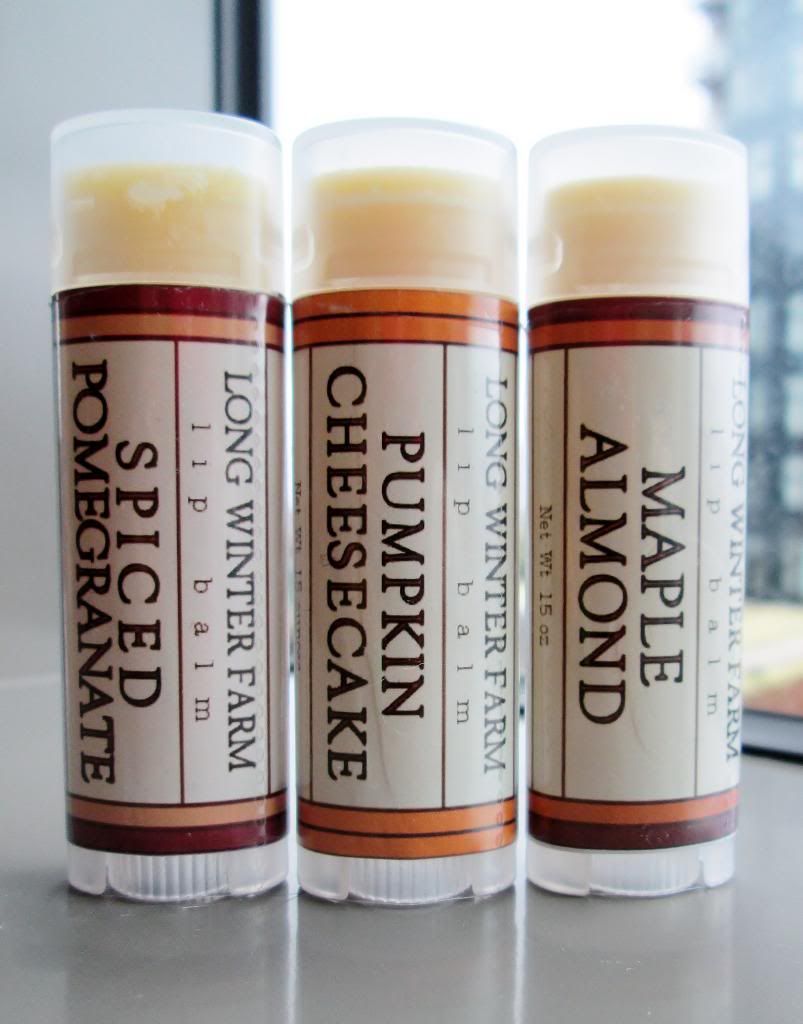 Company:
Long Winter Farm
Flavors:
Pumpkin Cheesecake, Maple Almond, and Spiced Pomegranate. The
Pumpkin Cheesecake
is one of my favorite balms from last Fall and I was thrilled to have another because, as most of you know, after about a year your lip balms tend to get a little funky and lose their spunk. This balm is a perfect blend of pumpkin, spice, and creaminess. If you're into really spicy, strong pumpkin scents, this one probably isn't what you're looking for, but if you're looking for a great pumpkin balm, give this one a shot! The
Maple Almond
probably has the strongest scent of the bunch. It smells of rich maple and sweet and nutty almond. It smells rich and delicious! The
Spiced Pomegranate
smells of tart, slightly sweet ruby pomegranate blended with the perfect combination of spices. This balm totally reminds me of Fall!
Wear:
Long Winter Farm balms are soooo creamy and go on so smooth and buttery. If you've never tried a LWF balm before, you're missing out! These balms really melt on your lips and just feel great on my lips!
Packaging:
These balms come in oval tubes. The labels have colored bands on the edges to reflect the flavor of the balm, which happen to reflect the season this time around. These balms are very much Fall-like. The name of the balm is easily read on the front of the tube.
Price:
$4 per tube which is totally worth it for one of these balms!
Overall
Pros:
Flavors, Wear, Packaging, Price
Cons:
Rating: 5 out of 5 twists. Yeah...if you don't know by now, I LOVE Long Winter Farm balms and I have a ton of them. I cannot recommend them enough! Also, if you haven't tried her perfume oils yet, you need to get on that right away!
Ingredients: Natural Beeswax, Sweet Almond, Grapeseed & Jojoba Oils, Cocoa & Unrefined Shea Butters, Vitamin E, Flavor Oil
Have you signed up for LWF's Seasonal subscription yet? What did you think of these Fall balms?