So a little while ago, there was a one day sale of 35% off on Moody Sisters products. It happened to be the day I took the MCAT and I almost completely forgot about reading about the sale, which is why I wasn't able to post about it. I picked up a bunch of stuff other than lip balm, all of which I really love! But, this post is specifically about lip balm, sometime in the future I may post about the rest of the products too because they're wonderful!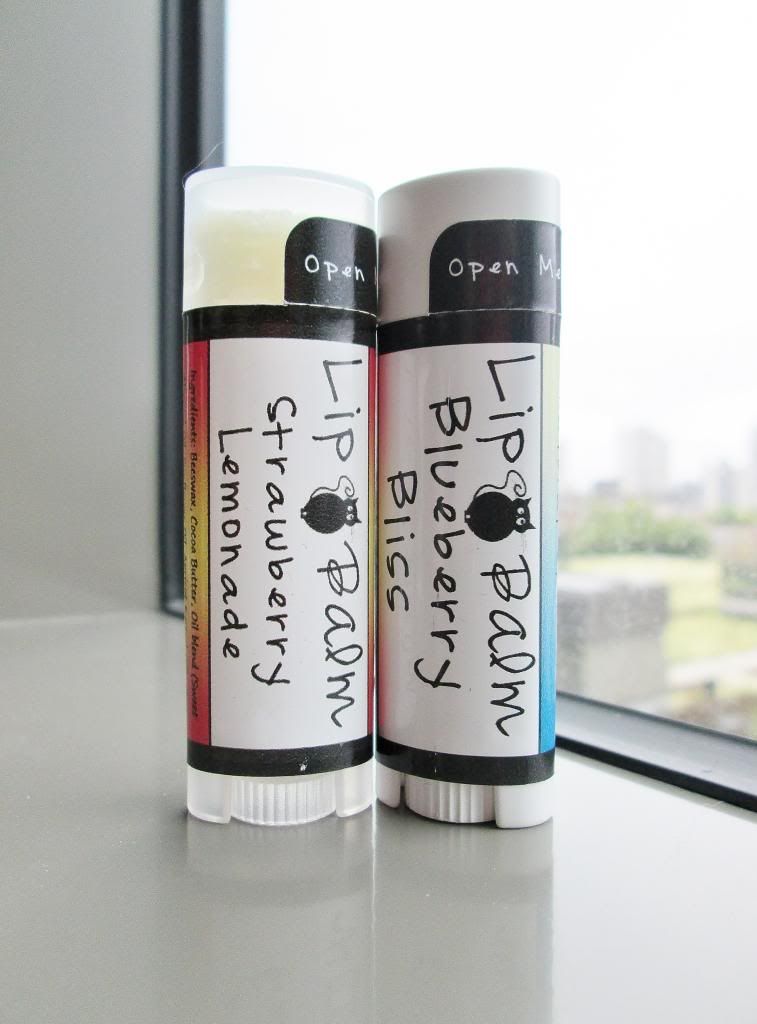 Company:
Moody Sisters
Flavors:
Strawberry Lemonade and Blueberry Bliss. The
Strawberry Lemonade
is seriously amazing! I haven't stopped using it since the day I got it. It smells of super sweet lemons and sweet, ripe strawberries. It really makes me crave a tall, cold glass of strawberry lemonade! The
Blueberry Bliss
smells exactly like ripe blueberries.
Wear:
These balms go on so smooth and they feel super moisturizing! I only need one swipe on top and one on bottom to cover my lips in a great amount of balm, but you know me, I tend to go around in circles when a balm goes on so easily. These balms feel like they're a thinner consistency than some of my other balms, but that doesn't hinder it in any way! It feels like a nice lightweight balm that provides your lips with tons of protection.
Packaging:
These come in oval lip balm tubes. The Strawberry Lemonade has a clear oval tube and the Blueberry Bliss has a white lip balm tube. Both have labels that have the name of the shop and the flavor of the balm printed right on front. The labels are pretty simple and pleasing to the eye.
Price:
I got these on sale and before they raised their prices to give free shipping. These balms are now $6.50 which puts them way out of my price range.
Overall
Pros:
Flavors, Wear, Packaging
Cons:
Price
Rating: 4.5 out of 5 twists. I love Moody Sisters products, but if I wanted to just buy balm again, I may have to wait for a sale first.
Ingredients: Beeswax, Cocoa Butter, Oil Blend (Sweet Almond Oil, Sunflower Oil, Apricot Kernel Oil), Shea Butter, Coconut il, Tocopherol (Vitamin E), Essential Oils. (The Strawberry Lemonade also has Strawberry Extract in it.)
Have you tried Moody Sisters balms before? What did you think of them?