It's been a while since
my first review of Blue Q's Lip Shit
. But I stumbled upon these two in a random store about two months ago, so I had to snatch them up! I'd been eyeing them for a really long time so I was excited to finally try them out. I really loved the first three I tried, I took them everywhere with me. So I had high hopes that these balms wouldn't disappoint!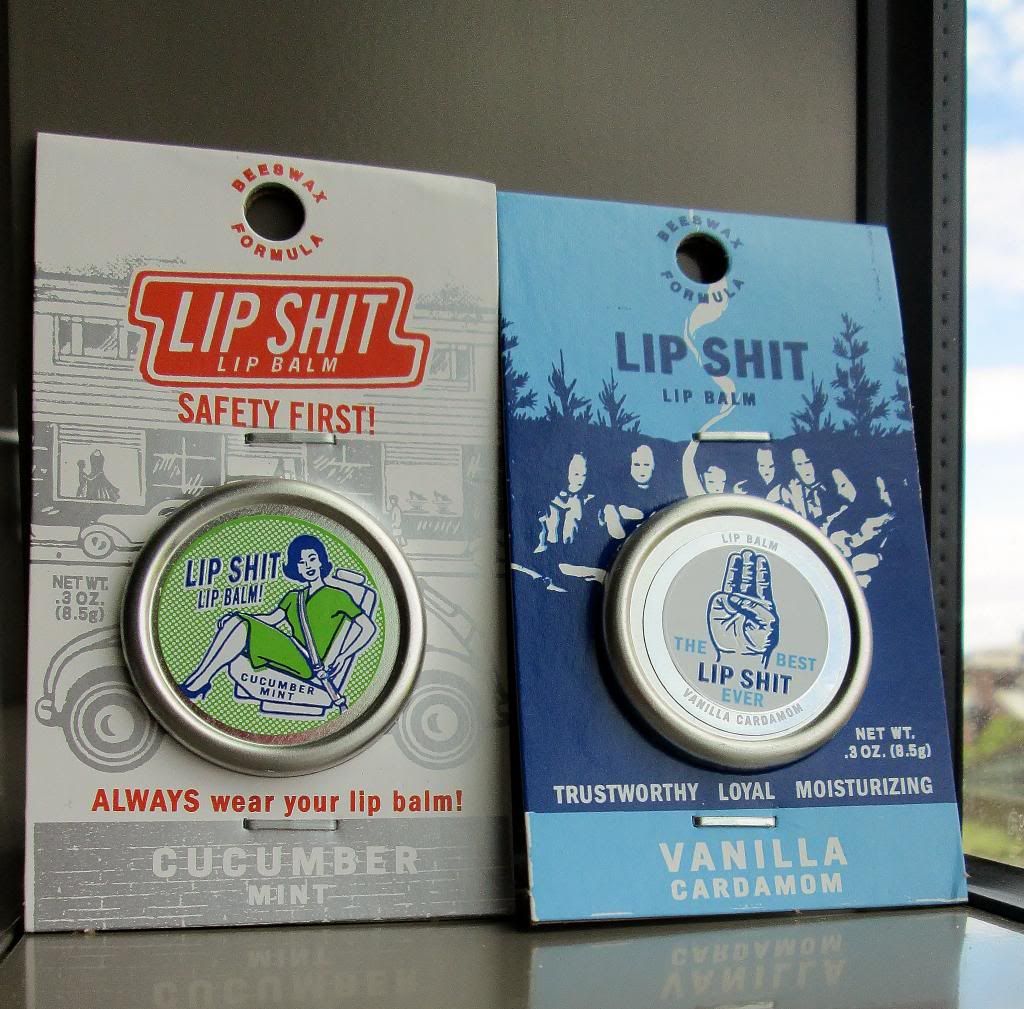 Company:
Blue Q's Lip Shit
Flavors:
Cucumber Mint and Vanilla Cardamom. I was really excited to try the
Cucumber Mint
because I've become obsessed with
Balm Chicky's Huge Cucumber
which is a cucumber and mint balm. This one...was kind of strange. It smells lightly of cucumber and kind of like mint. It's not my favorite. I was actually really disappointed. The
Vanilla Cardamom
was something I wanted to try ever since I first tried
Epically Epic's Cardamom Vanilla
. It was such a unique combination that I wanted to try Lip Shit's version too. This one smells very lightly of vanilla and a LOT of cardamom. It's too much for me. If you really love cardamom or really spicy balms, this is for you. I really wanted to like both of these balms!
Wear:
These balms go on smooth, they come in lip balm pots so you have to use your finger to put it on. A good amount of product gets onto my finger and thus onto my lips and you don't need too much to get good coverage. However, when I wear it I can basically taste metal and the balm. Like, if I exhale or inhale through my mouth when I wear these, I get this bad taste in my mouth. Not for me.
Packaging:
These come in little metal tins, they're really adorable! I love how small these are, they're super portable. I also love the illustration on the labels, each one has a little retro flair to them.
Price:
I paid I think $8 for each of these in store which is way out of my price range, but it would have cost about the same had I ordered them online and had to pay for shipping. $8 is just too much for a lip balm. Online it's $6.45 per tin, plus shipping.
Overall
Pros:
Variety of flavors, packaging, wear (minus the bad taste it leaves in my mouth)
Cons:
Flavors, Price
Rating: 2.5 out of 5 twists. I really wanted to love these balms, I really did. I LOVED the three I had before, but these ones were definitely a little off and not for me. I'd definitely recommend trying one of the original ones I tried: Lemonade Hibiscus, Coconut Basil, and Raspberry Lemongrass.
Ingredients: Coconut Oil, Sunflower Oil, Beeswax, Flavor, Lanolin, Vitamin E, Organic Comfrey Leaf Extract, Rosemary Extract
Have you tried Lip Shit Lip Balms before? What did you think of them?
**Don't forget to enter my Ripe Shop giveaway here. Good luck!!**