Every time a new evolution of smooth balm comes out, I have to get my hands on it. I don't know why! Maybe it's because I can't get over those adorable spheres of balm. I love how their packaging sticks out among my collection, there's certainly not many balms that stick out like these bright little spheres do. It took me a little while to get my hands on this one after it came out this past summer (I think?), but I've got it now and I'm ready to tell you all about it!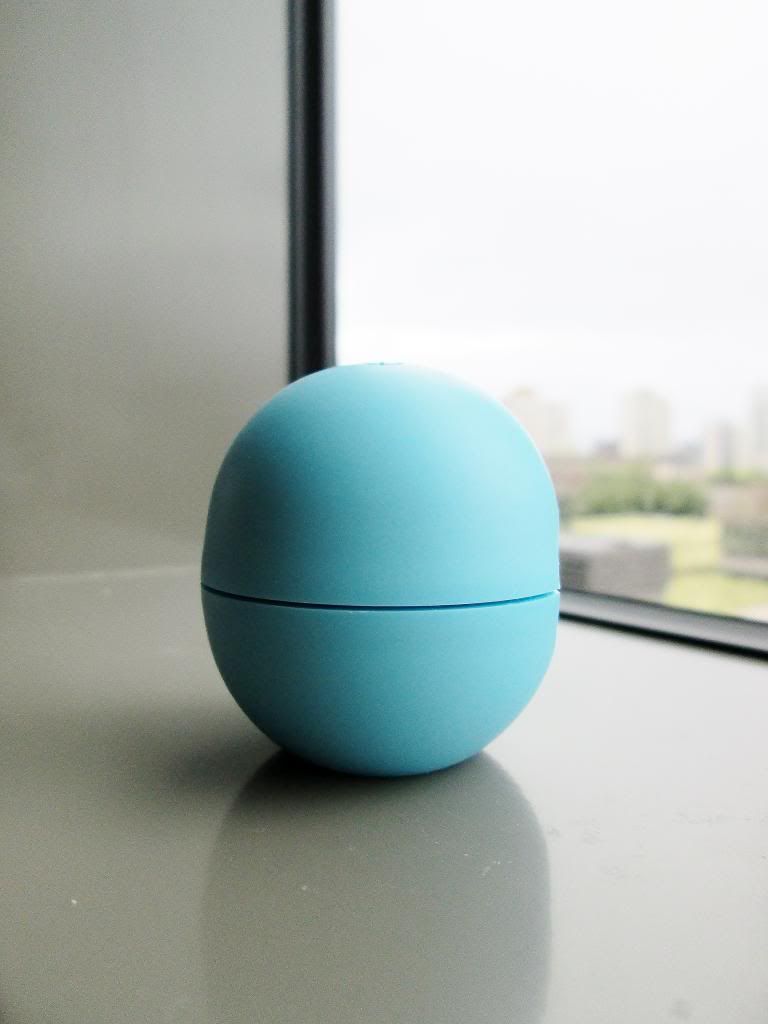 Company:
e.o.s. (evolution of smooth)
Flavor:
Blueberry Acai. This balm smells a lot like blueberry with a little extra tartness to it. I'm assuming that's the Acai in it, though I've never had Acai before except in other balms. If you're a berry fan, you'll like this.
Wear:
This balm goes on really smooth, it glides onto my lips with ease. I wouldn't say that this balm is creamy though, it melts into my lips and goes on smooth, but it isn't a creamy formula (that would probably make the sphere of balm more squishy and fall apart when you put it on). I do go around a few times with it, but I'm not sure if it's because the consistency is thin or because I'm having too much fun going around and around! Haha, but seriously you go around a few times and that's plenty enough balm for your lips.
Packaging:
This balm comes in a cute, small blue sphere with a twist off top. The balm itself is dome shaped which makes it super easy to put balm right where you need it. Although I did use a lot of my lemon sphere (one of my favorites) until it was flat, and that took a little more contouring on my part to get it on right. The only thing I don't like is that the sphere is a little bulky and if you're someone who likes to put balm in your jean pocket, this balm probably wouldn't fit. Luckily I almost never wear jeans and usually carry balm in my purse of jacket pocket so it's not really an issue for me.
Price:
~$4 I think. I think I paid that much at Target, but I could be a little off. You get the equivalent of almost 2 sticks of balm with this one, so I think it's totally worth it!
Overall
Pros:
Flavor, Wear, Packaging, Price
Cons:
A little bulky
Rating: 4.5 out of 5 twists. This balm is pretty awesome! It's not my favorite e.o.s. balm though. The medicated Tangerine, Lemon, and Watermelon Wonderland are probably my top three. Oh and I really like their Sweet Mint too! Basically, any way you go you can't go wrong with a balm from e.o.s.
Ingredients: Olive Fruit Oil*, Beeswax*, Coconut Oil*, Jojoba Seed Oil*, Natural Flavor, Shea Butter*, Stevia Rebaudiana Leaf/Stem Extract*, Sunflower Seed Oil*, Tocopherol, Blueberry Fruit Extract *, Acai Fruit Extract, Limonene**, Linalool**. *Organic. **Component of Natural Flavor
What do you think of this balm? Have you tried it before? Are you a fan of e.o.s. balms?
**Don't forget to enter the Ripe Shop giveaway here. Good luck!!**