Hi all! I know it has been a while since
my last Little Batch review
, but I think this post will more than make up for it. There are a LOT of balms I want to tell you about today, so I hope you're ready! I bought a ton and Jen threw in a ton more, so I broke up my haul into two different reviews. Here's the first half! Also I'm sorry for some repeats, but sometimes it's good to take another look at some balms and perhaps we've got some new readers who haven't read about some old favorites yet.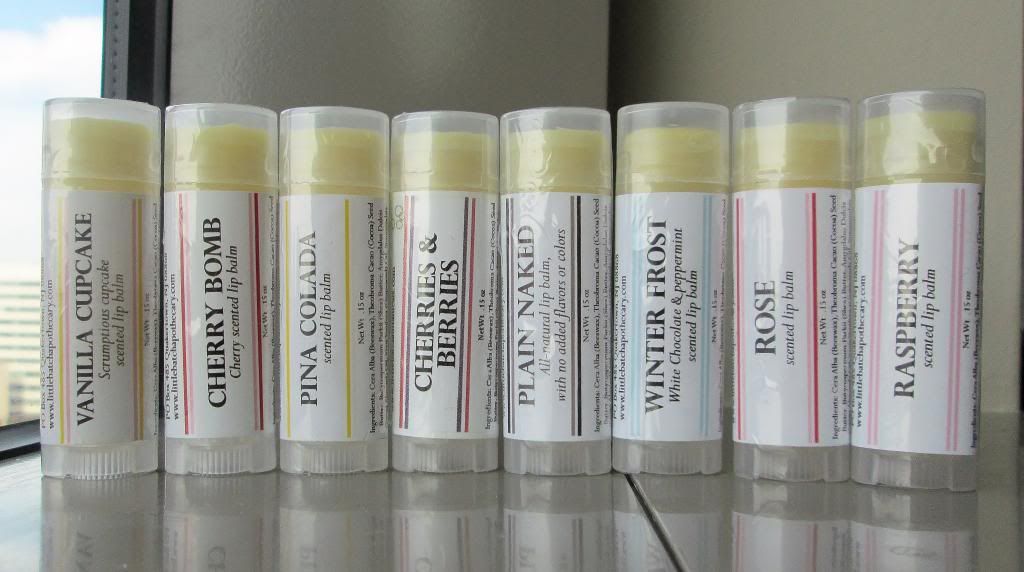 Company:
Little Batch Apothecary
Flavors:
Vanilla Cupcake, Cherry Bomb, Pina Colada, Cherries & Berries, Plain Naked, Winter Frost, Rose, and Raspberry. The
Vanilla Cupcake
is one of my absolute favorite Little Batch balms. It honestly smells like a vanilla cupcake was squished into a lip balm tube. It's light and sugary and smells like a delicious vanilla bakery treat. It also kind of smells like vanilla cookies. My point is...this balm smells delicious. The
Cherry Bomb
as I said yesterday, smells like fruity, sweet cherries similar to cherry Starburst. It's really yummy and would make a great gift for anyone, but especially those individuals like myself who prefer the red Starburst over every other flavor. The
Pina Colada
is another one of my favorite balms, in fact with my last tube of this balm I woke up one night with it clutched in my palm. Even in my sleep I grabbed it and held on to it! It smells super tropical! Fresh, sweet pineapple and warm coconut make a wonderful combination in this balm. It most definitely reminds me of our trip to Hawaii last April. The
Cherries and Berries
smells of sweet cherries and ripe berries. It reminds me of a balm I had when I was in elementary or middle school. This balm is sweet without being overly in your face and really kind of just brightens up my day when I use it. The
Plain Naked
smells exactly like you'd expect! Like nothing! Okay, well not quite. There's a slight scent of the cocoa butter that's used in it, but it's pretty much naked. Next up, my absolute favorite Little Batch lip balm, and one of my all time favorite lip balms,
Winter Frost
. This balm...oh this balm...it's amazingness in a tube. It's creamy white chocolate combined with cool, tingly mint. Seriously, there's nothing better than this balm during these colder seasons. Seriously, you need this balm. The
Rose
balm smells exactly like you think it would, like fresh, delicate rose flowers. It smells sweet and fresh, even though I'm not a fan of floral balms, I'm sort of warming up to them. Still wary, but this one smells super yum. If you're a floral fan, get yourself one of these balms. The
Raspberry
is a new found favorite of mine. This smells of ripe, tart, slightly sweet raspberries. I find that this is one of the most true to life raspberry scented balms I've come across.
Wear:
These balms are super buttery! They're soooo creamy and go on so smooth. These have such a wonderful consistency! You only need about two or so swipes on each lip, but they go on so smooth I usually just keep going around and around. My lips feel soft and smooth after wearing these!
Packaging:
These come in oval tubes with white labels. Each label has the flavor of the balm clearly stated on front. They also have sets of colored lines on the front that correspond to each balm's flavor, makes it super easy to tell them apart if you're like me and have a ton of the same balms from one shop.
Price:
$4 per tube which is a total steal for one of these!
Overall
Pros:
Flavors, Wear, Packaging, Price
Cons:
Rating: 5 out of 5 twists. These balms are crazy amazing! Seriously, I've never come across a Little Batch balm I didn't like. Well...unless it was floral, but that's because I'm a weirdo and I don't like floral balms! They still smell awesome, I just prefer fruity and sweet balms =).
Right now you can save 20% off your order of $10 or more at either Little Batch shop using code: HMW13 at checkout. This is good from now through December 2nd! With that kind of discount, you could try tons of different balms! Oh, and did I mention her lip scrubs are also incredible? Do yourself a favor and pick up one of those as well, you won't regret it!
Ingredients: natural beeswax, cocoa butter, shea butter, sweet almond oil, grapeseed oil, jojoba oil, castor oil, tocopherol (vitamin e), flavor
What are some of your favorite Little Batch balms? Have you got your eye on any of these?