Happy Saturday, everyone! I'm almost caught up with my
Birchbox
reviews! I'm hoping to post December's Birchbox review next Saturday, which means I'll be all caught up and on track with my future Birchbox reviews. Although that means I'll be slightly behind on my
Ipsy
reviews (another monthly makeup subscription). Anyway, I really loved my November Birchbox and can't wait to tell you about it.
This months products:
sample size of Atelier Cologne's Orange Sanguine Petite Cologne Absolue, full size Chella Highlighter Pencil in Latte, sample size of Supergoop! Daily Correct SPF 35 CC Cream in Light to Medium, sample size of TOCCA's Crema de Mano in Cleopatra, a sample size of Vasanti Cosmetics' BrightenUp! Enzymatic Face Rejuvenator, and a Chuao Chocopod in Honeycomb.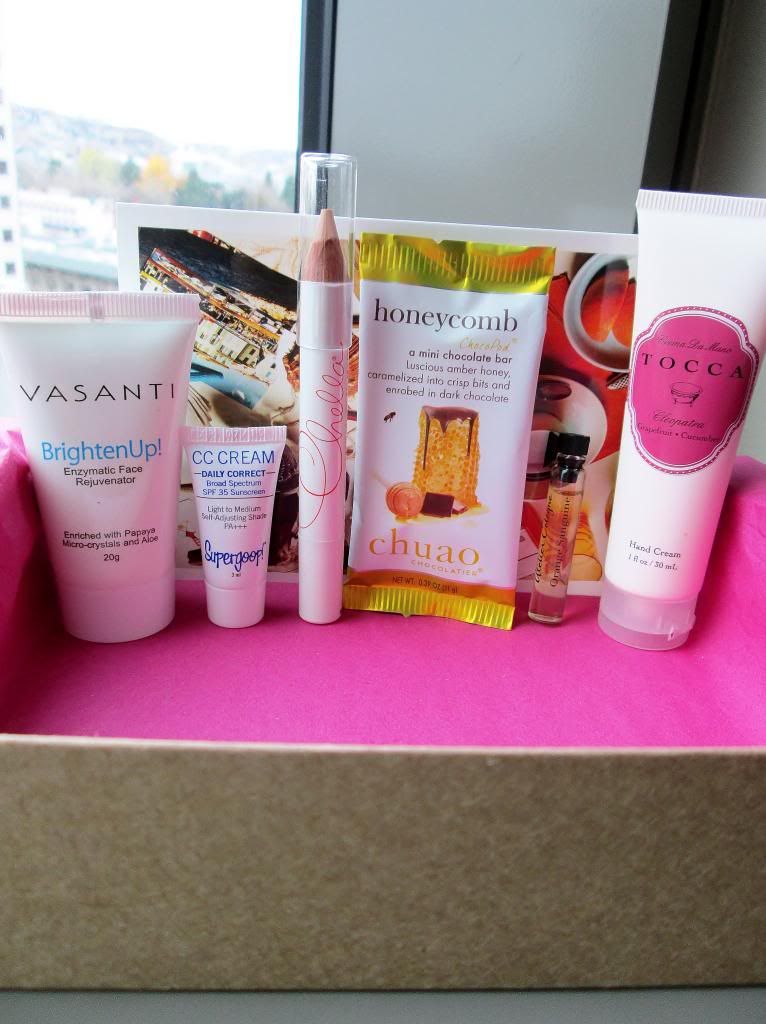 Atelier Cologne's Orange Sanguine Petite Cologne Absolue:
Okay this is probably the most wonderful scent I've ever smelled. I'm trying to use this sparingly so I can get as much out of this sample size as I can. This smells of bright, sweet--but not overly sweet--oranges. If you're a citrus lover like myself, you'll love this scent. When they say a little goes a long way, they really mean it! I only need a few small drops of this to be wearing the perfect amount of perfume and it lasts forever! I'll highly consider purchasing a full bottle of this when my sample runs out, which hopefully won't be for a while since the full size bottle costs $60 and I can't justify spending that much on one perfume right now.
Chella Highlighter Pencil in Latte:
I have to be honest here, I've never used a highlighter before. I don't usually wear a ton of makeup (MAYBE one day a week) so I don't usually experiment with a lot of makeup other than the basics (eyeshadow, eyeliner, mascara, blush/bronzer). I tried using this the other night on my waterline and I have to say, it really made my eyes seem bigger and brighter. When I first wore it alone to see if I noticed anything different, it made my eyes look kind of weird and when I asked Rob if he noticed anything different he said "you look more tired than usual, why?". But, when I put on the rest of my makeup he definitely noticed that my eyes looked brighter and more awake. Interesting. I'm definitely glad I got this in my box. A full size of this costs $18 and since I received a full size, my box is already worth at least $18 and I only paid $10.
Supergoop! Daily Correct SPF 35 CC Cream in Light to Medium:
I'm not familiar with CC or BB creams, although I really want to try them out more. I was happy to finally be able to try a CC cream, but didn't really know what to expect. I was also worried that the shade they sent me was too light, but I'm super pale right now (so much so that my sister even commented on it, I think this no sun in Seattle thing + cold weather is killing me) so it actually worked out. The shade blended right into my skin and was able to match pretty dead on. It's supposed to act like a foundation/moisturizer/primer. I didn't really notice any change or it making marks on my face any lighter, but I could see how it would make a great primer. I will say that this formula is super lightweight and I really felt like I was wearing nothing. I'll have to experiment more with this later. A full size of this is $32.
TOCCA Crema De Mano in Cleopatra:
Okay, this was hands down my favorite item in this Birchbox. I haven't stopped using it since I received it, and I actually went out and bought two full size tubes for myself and one for a friend. This stuff is seriously awesome. I love the way it feels on my hands! It feels lightweight and absorbs almost instantly, not to mention it smells pretty fantastic. Cleopatra is a combination of grapefruit and cucumber, so this definitely leaves my hands smelling fresh! The scent is not overbearing at all, but you can tell it's there. It's just so pleasant! The sample size goes everywhere with me in my purse and I keep one full size in Stella (Italian Blood Orange) on my living room table and one full size in Cleopatra on my nightstand. Absolutely love this hand cream! A full size (4 oz) is $20 and the smaller size (2 oz) is $8, my sample size was 1 oz.
Vasanti BrightenUp! enzymatic Face Rejuvenator:
I love trying out different face washes/scrubs so I was excited to try another company's microdemabrasion (
last month's was Dr. Brandt's
which I loved!). This one had a lovely, fresh and clean scent. I noticed that the little scrubbers in this one were much finer than the one's in Dr. Brandt's, I almost didn't even notice them, they were that small. That being said, I didn't think this would do much since it really just felt like a cream cleanser. I could tell it definitely wasn't just a cream cleanser because it left my face feeling super soft and smooth. It says it's supposed to reveal "a glowing, smooth complexion" but I don't really think I was "glowing" or that my face looked any brighter, but it did feel smooth! A full size of this is $34, much more affordable than Dr. Brandt's which runs for $78.
Chuao Chocopod in Honeycomb:
I was kind of disappointed when I opened my box to find that my chocopod was: 1) Honeycomb and 2) Dark Chocolate. Probably my two least favorite things in the entire world. That being said...I absolutely loved this chocopod and devoured it in seconds. It was just so delicious! I might try to save up some Birchbox points to cash in for the assorted chocopod set which has so many other delectable flavors such as Orange A Go Go, Maple Bacon, and Pop Corn Pop, amongst others. The pack of 8 costs $9.95, a little steep for chocolate, but maybe one day to treat myself.
Overall, I loved this box! This was probably my most favorite box so far (yeah, I know, this one was only my second) and any future boxes will have a lot to live up to. I definitely still think my Birchbox subscription is worth it. I was able to try out so many lovely things and found many products that I find myself using if not daily, a few times a week. I received at least $18 worth of stuff for my $10 box so I'm happy.
Are you a Birchbox subscriber? What did you think of November's box? If you're not a subscriber, but would like to sign up for Birchbox, please use my referral code here.