Hi everyone! I know with Christmas coming up, you probably have a bunch of holiday parties coming up. I know I do which is why I'm so glad Mary Kay asked me to review their Viva Red! set. Red is the perfect holiday color, and it's definitely a winner for lip color in my book! These products will definitely be in my makeup bag when I go home this weekend!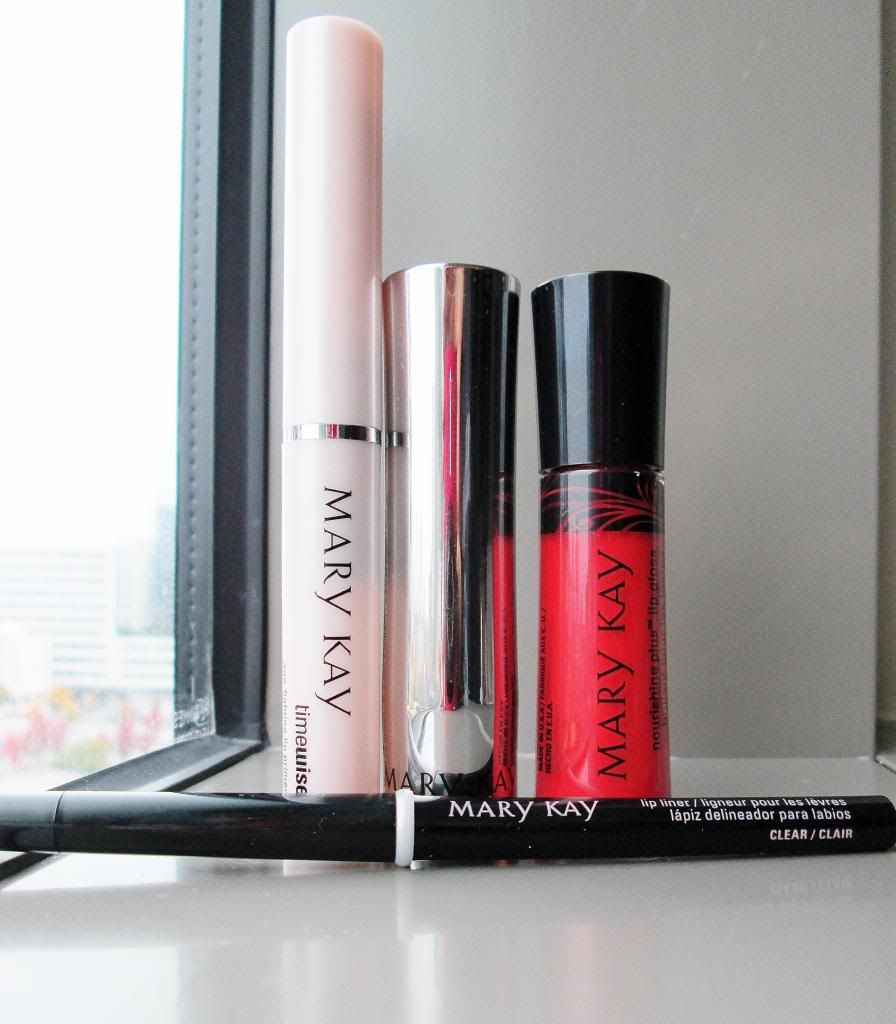 Company:
Mary Kay
Products:
Mary Kay® True Dimensions™ Lipstick in Firecracker, TimeWise® Age-Fighting Lip Primer, Mary Kay® NouriShine Plus® Lip Gloss in Rock 'n' Red, and Mary Kay® Lip Liner in Clear. As I said in
my last Mary Kay post
, I love their True Dimensions line. The
True Dimensions Lipstick in Firecracker
goes on so easy and creamy with a subtle shine. It also doesn't completely dry out my lips, which is a problem I have with a lot of lipsticks I use. The color is a beautiful bright red. I really can't say enough about how wonderful this lipstick is. The
TimeWise Age-Fighting Lip Primer
works wonderfully to transform my lips into a blank canvas, ready for whatever shade of lip color I decide to wear. I never used to use a lip primer before my lipsticks, but after trying this primer out, I use it any time I plan to wear lipstick! The
NouriShine Plus Lip Gloss in Rock 'n' Red
is a gorgeous bright red lip gloss. The gloss is a little sticky and definitely slick, but provides a beautiful, shiny color without using much product at all. It makes a beautiful combination when worn on top of the Firecracker lipstick, adding a gorgeous shine on top of an already gorgeous shade of red. The
Lip Liner in Clear
was something I had never used before, I didn't even know they made clear lip liner. I use the lip liner to shade in my lips before putting on lipstick to make it last a little longer.
In addition to this lip set, I'm wearing Benefit's They're Real
Mascara and Prestige liquid liner in Black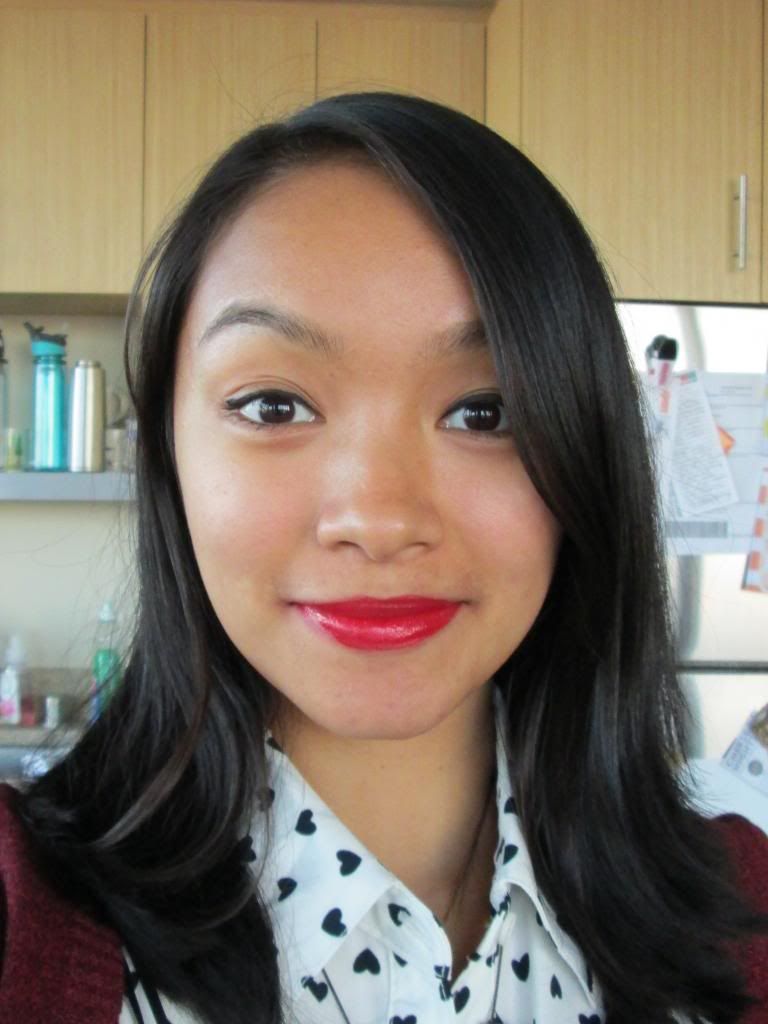 Wear:
Each one of these goes on super easy. The lip gloss doesn't last as long as the lipstick, obviously because lip gloss usually sits on top of your lips and since it's liquid usually comes off on anything it touches. The lipstick lasts at least three hours for me without needing a touch up.
Packaging:
Each of these products comes in their appropriate packaging. The TimeWise Primer comes in that pale pink color you see above and applies like a lipstick. The shiny silver tube is the TrueDimensions lipstick which is pretty cool as to get the lipstick out you need to push the top in like a button to pop the lipstick out. It's definitely unique! The lip gloss is the beautiful red tube you see and the lip liner is the skinny black stick. Everything is pretty compact and easily fits in with all the other stuff I've got packed in my makeup bag.
Price:
This set is $67. The liner alone is $12, the lipstick is $18, the lip gloss is $14, and the lip primer is $23 if you find that you only want to try out one or two products without having to buy the whole set. I think the prices are pretty reasonable as these are pretty wonderful products.
Overall
Pros:
Products, Wear, Packaging, Price
Cons:
Rating: 5 out of 5 twists. I'd definitely recommend trying out this set or perhaps giving it as a gift!
------------------------
These products were provided complimentary to me by Mary Kay, however, all opinions are strictly my own. Thank you Mary Kay team for giving me this wonderful opportunity!