Hi everyone! I hope you're having a great day so far. I'm sorry this is a little late today. Last night we decided to go grocery shopping at 8pm, got home at 9, made dinner and ate by 9:45, then I got extremely tired and was ready for bed by 10:30. So I fell asleep before I had a chance to write today's post. I usually try to write posts ahead of time, but I've been so busy lately! Anyway, a little while ago Wicked Soaps had their anniversary sale, so I decided to pick up a few balms. I hope you enjoy today's review!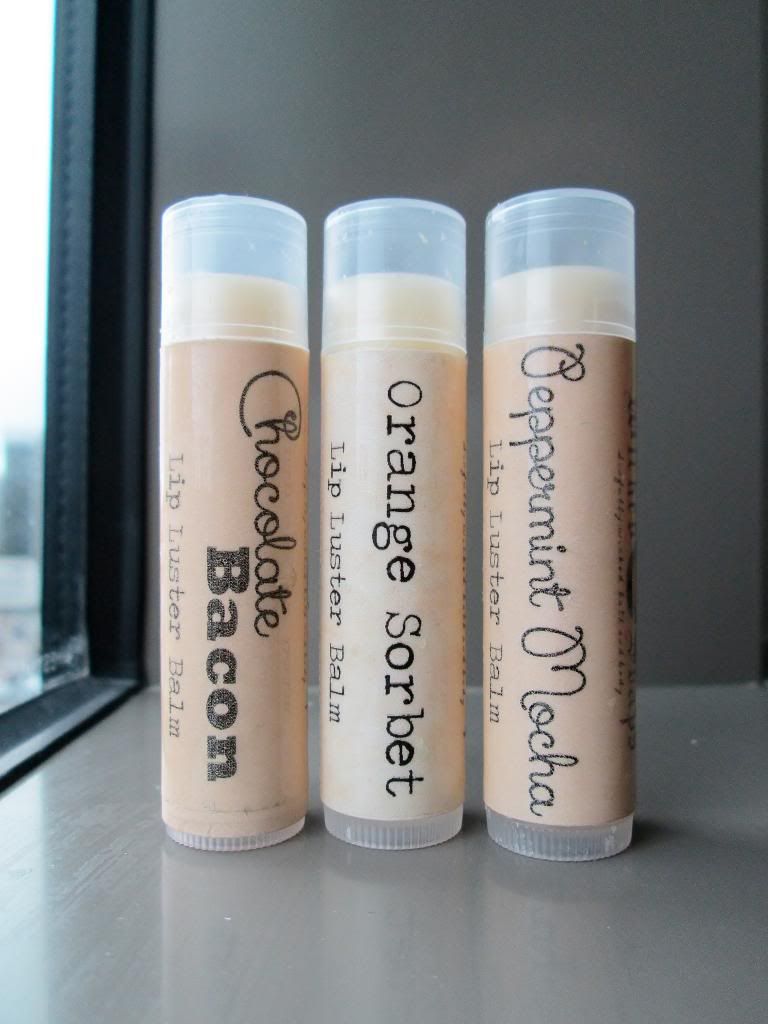 Company:
Wicked Soaps
Flavors:
Peppermint Mocha, Orange Sorbet, and Chocolate Bacon. The
Peppermint Mocha
smells like tingly peppermint and a little bit of chocolate were combined in a cup of coffee. It definitely reminds me of the Peppermint Mochas I used to get from Starbucks. The
Orange Sorbet
smells bright and sweet without being too strong. This definitely reminds me of that delicious frozen treat. (True story: I used to eat Orange Sorbet by the tub when I was in high school, it's just so good! I haven't had it in years though...may need to add that to the shopping list this week.) The
Chocolate Bacon
, like I've said in a previous Mini Monday, smells exactly like chocolate covered bacon. It smells of milk chocolate over perfectly cooked, crispy bacon. (If you're in the Seattle area, check out Some Random Bar for their chocolate covered bacon, sooo good.)
Wear:
These balms go on nice and creamy. They also feel a little bit thicker than some other balms. These do a pretty good job at moisturizing my lips, but they do kind of feel like they're sitting on top of my lips rather than really sinking in, but not enough for it to deter me from using the balm. I think that it feels like it's sitting on top because my lips have been crazy dry lately (I'm a bit dehydrated, plus our apartment is super dry and our humidifier shut off halfway through the night so my lips are really cracked this morning).
Packaging:
These come in your average sized lip balm tubes with tan labels that almost have a craft paper/worn paper look to them. It's definitely unique! The flavor of the balm is printed right on front underneath the company's name.
Price:
$3 per tube which is definitely a steal!
Overall
Pros:
Flavors, Wear, Packaging, Price
Cons:
Rating: 4 out of 5 twists. These balms were pretty great! The Chocolate Bacon is definitely a unique flavor and if that peaks your interest, I would definitely recommend trying it!
Ingredients:Cocoa Butter, Beeswax, Coconut Oil, Avocado Oil, Flavor Oil
Have you tried these balms from Wicked Soaps yet? What did you think of them?