It's been a little while since
my last ForGoodnessGrape review
, so I'm excited to be sharing these balms with you today. These ForGoodnessGrape balms have been some of the best ForGoodnessGrape balms I've ever tried, Lisa's definitely been working on some good things over there.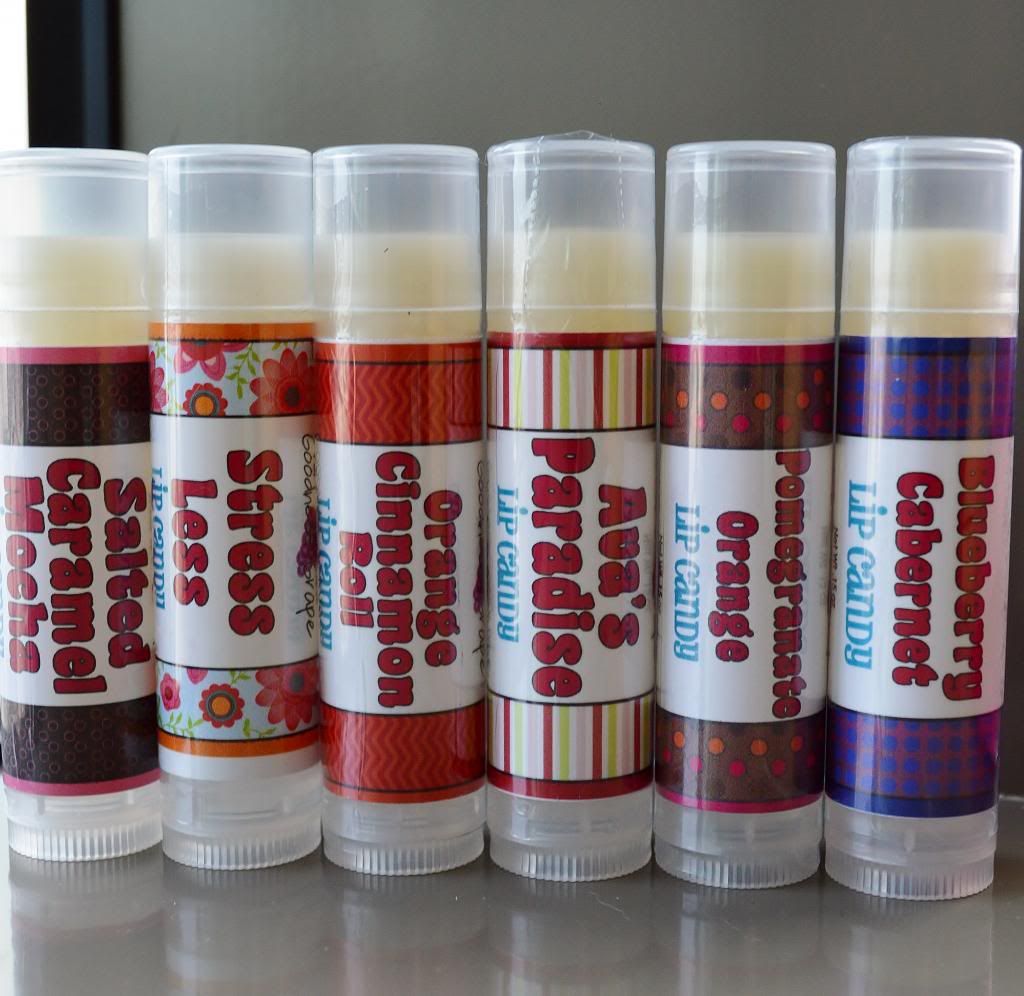 Company:
ForGoodnessGrape
Flavors:
Salted Caramel Mocha, Stress Less, Orange Cinnamon Roll, Ava's Paradise, Pomegranate Orange, and Blueberry Cabernet. The
Salted Caramel Mocha
smells absolutely amazing! Just like my favorite drink from Starbucks. Rich chocolate, some coffee, topped with salted caramel..what's better than that? The
Stress Less
smells like a tropical getaway. The first thing you smell is the warm, tropical coconut followed by ripe peaches and just a hint of tropical mango. This is definitely what I think of when I want to get away from any stress, a nice tropical vacation! The
Orange Cinnamon Roll
is definitely my new favorite go-to balm. It smells of delicious warm cinnamon rolls topped with orange icing, this is just fantastic. First off, let me tell you,
Ava's Paradise
smells absolutely incredible! It's supposed to smell like lemon drop, strawberry sorbet, and kiwi and it most certainly does! I'm a sucker for anything lemon, and this one is definitely one of my favorites! The
Pomegranate Orange
has a lovely scent of sweet, slightly tart pomegranate and fresh, sweet oranges. The
Blueberry Cabernet
smells of ripe blueberries and sweet red wine, I wasn't so sure about this combination, but it definitely works!
Wear:
These balms go on sooo smooth and creamy. These are firmer balms and definitely not oily in the least. The consistency of ForGoodnessGrape balms resemble Orange Thyme balms in my opinion.
Packaging:
These come in your average sized lip balm tubes with artfully designed labels. Each label's design corresponds to the flavor of the balm, which means each label looks different from one another.
Price:
About $3.75 per tube which is definitely a deal for one of these fabulous balms!
Overall
Pros:
Flavors, Wear, Packing, Price
Cons:
Rating: 5 out of 5 twists. These balms are absolutely fabulous! I'd recommend them to anyone, plus there are just SOO many flavors to choose from, there has got to be something for everyone's taste!
Ingredients: Shea Butter, Mango Butter, Cocoa Butter, Sweet Almond Oil, Beeswax, Jojoba Oil, Coconut Oil, Castor Oil, Vitamin E, and Fragrance
Have you tried these ForGoodnessGrape balms before? What did you think of them?