I hate that I missed putting this up the last Saturday in December, but I had terrible sleep for about two weeks and was completely drained after returning home after Christmas. Thus, you'll be seeing all the goodies that came in my December Ipsy Glam Bag today. I should be all caught up with this though, so the next reviews should be done in a more timely manner! I can't wait to share this with you!
Company:
Ipsy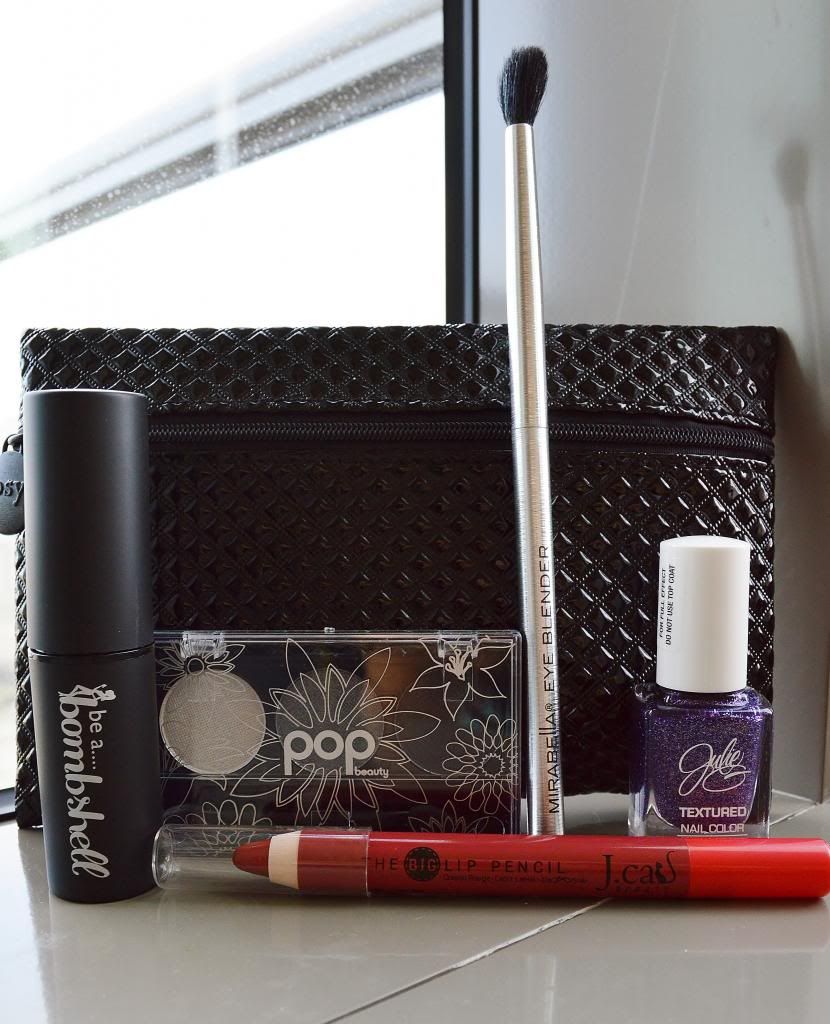 Products in this month's Glam Bag:
J. Cat Big Lip Pencil in Red Rose, POP Beauty Eye Shadow Trio in Smokin' Hot, Mirabella Eye Blender Brush, Julie G Textured Polish in Sugar Plum Fairy, and Be A Bombshell The One Stick in Girl Crush.
J. Cat Big Lip Pencil in Red Rose:
I absolutely LOVED this lip pencil. I've used it countless times since I received it last month, even multiple days in a row. The color is a beautiful bright red and it goes on just beautifully. Because it is a lip pencil you can put it right where you want it. This lasted about 6 hours on me before really fading away, even with eating and drinking, AND it stayed on my lips and not on my teeth, but that may have to do with how I wear lipstick. Here's how I put on lipstick to really get it to stay: I put on a primer, then I put on one coat of lipstick, I then blot my lips and fix any lipstick that may have gotten away from my lips, then I put on a little bit of pressed powder, then I put on another coat of lipstick, blot again, another coat of pressed powder, and then another coat of lipstick. This was a beautifully sized product, full-size, and will probably last me at least a few months (unless I keep wearing it every day!). This color was absolutely perfect for all the holiday parties and dinners we went to. I definitely want to get my hands on a couple more of these lip pencils in different colors. One of these pencils is only $3.99, a price point I most definitely can work with!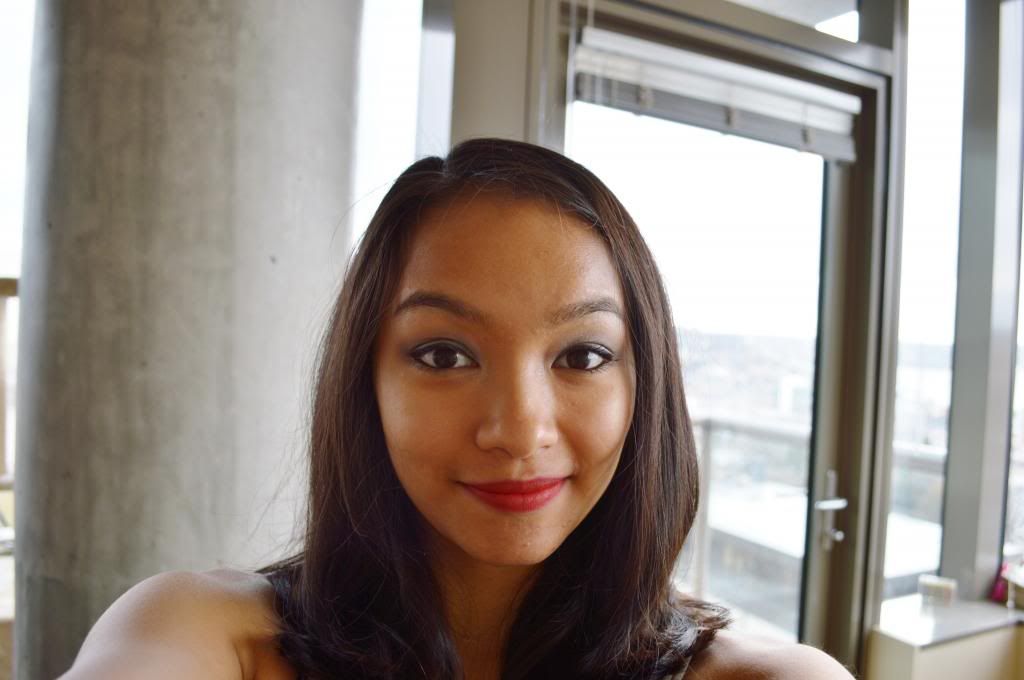 Here I'm wearing the J. Cat Big Lip Pencil in Red Rose, POP
Beauty Eye Shadow Trio in Smokin' Hot, and used the
Mirabella Eye Blender Brush during application.
POP Beauty Eye Shadow Trio in Smokin' Hot:
Like I've said before, I'm not a makeup expert by any means. I usually stick to one or two go-to looks and that's about it. One of my old go-to looks consisted of colors similar to this palette, but it's been probably four years since I retired that look. But, after using this trio, my love for these colors has been reignited! There are three shades: a very light, shimmery grey, a medium/dark shimmery grey, and a shimmery black. The colors go together beautifully! I wore this trio many, many times over the holidays and on a few of our date nights. I don't use a primer before wearing eye shadow and even without a primer these shadows lasted about 7 hours on my lids before creasing. I thought that was pretty darn impressive! The colors also stay put! There wasn't any fading of color until just around the 7 hour mark. I can't wait to try some more POP Beauty eye shadows! These three were just a sampling from the full size Smokin' Hot palette, which costs $24 and has 10 shadows, but with how great these shadows were, I'd definitely be willing to try out the whole palette!
Mirabella Eye Blender Brush:
I've never used a blender brush before, so I was intrigued by this. I did not expect such a lovely quality brush! The handle is made of metal, so it's got some heft to it which makes me think the whole brush will be pretty durable. The bristles were super soft and felt pretty quality to me. It worked great at blending my eye shadow! I've never really understood the whole blending thing, my sisters trying to tell me how to do it and often give me makeovers to show me, but it just hasn't stuck. But, this brush is changing things for me. I absolutely love it! The one qualm I have with it is that it's pretty long. It doesn't fit easily into a lot of my makeup bags, which makes the bristles on this brush all bent and such. I usually have to find a way to make the whole brush fit without bending the bristles. It's not a
huge
issue, but it is an issue for me. This brush runs for $27 which is crazy to me to spend on a brush (I usually buy e.l.f. brushes for $1-3), but the quality definitely shows!
Julie G. Textured Polish in Sugar Plum Fairy:
This polish is a super shimmery purple polish. It is a vibrant, shimmery purple polish with silver shimmer throughout. I haven't tried this one yet because I don't really like glitter/textured polishes because they're such a pain to remove! I tried wearing a glitter polish once and I hated how long it took to get the polish off. As someone who changes their polish weekly, I don't like to spend so much time just removing it. This was a pretty good sized product, full size I believe. Maybe one day I'll try it out when I'm feeling patient enough to use a shimmery polish. One of these is $3.99 which is definitely a reasonable price for polish.
Be A Bombshell The One Stick in Girl Crush:
This thing was kind of a disappointment. It's a very generous size, it's full sized, and has beautiful packaging (a metal tube similar to a lip balm/lipstick tube with a matte finish), but the product itself left me wanting. I received a color I knew I wouldn't wear, it's a very light, shimmery, pastel pink. When I put it on my skin and blend it, it just goes away and I'm left with shimmery glitter type stuff. You're supposed to be able to use this on your eyes, cheeks, and lips, but it all just looked bad on me. Perhaps if I had received a different color I would feel differently, but this item was just a no go for me. This retails for $16, maybe if I had been able to try a different color perhaps I'd find it reasonable to spend that much for this 3 in 1 product.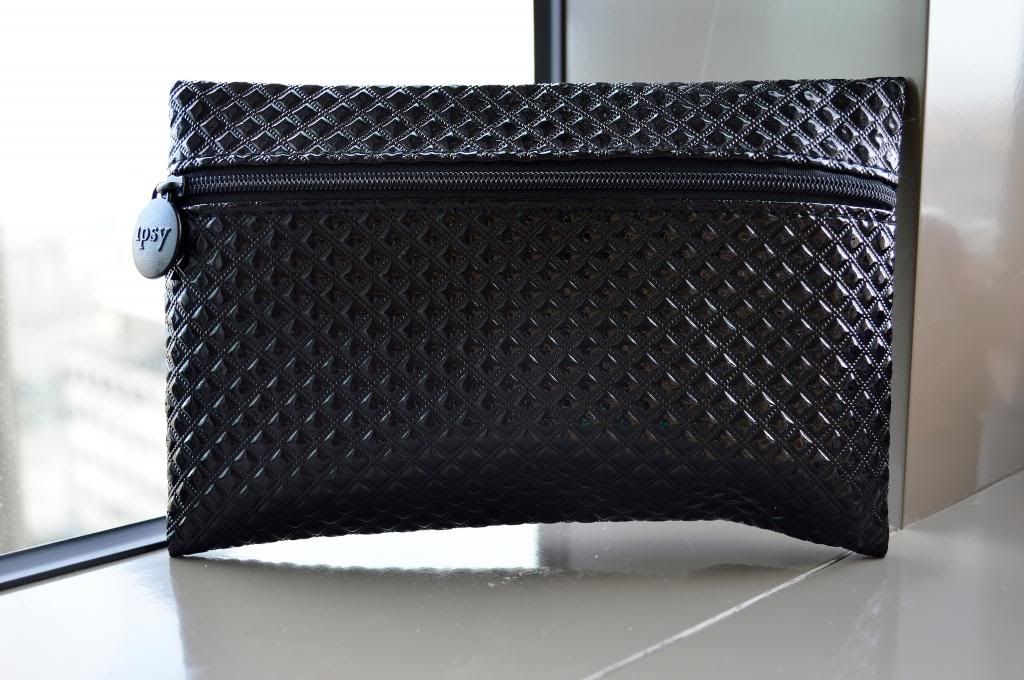 Packaging:
These products came in a gorgeous textured black makeup bag. I thought the bag was attractive and eye catching without being over the top. It's lined in red.
Price:
$10 for the month which I think was
totally
worth it, even just for the Mirabella Eye Blender Brush alone! I was able to try some really quality products that I've been able to add to my daily routine!
Overall
Pros:
Lip pencil, eye shadow trio, blender brush
Cons:
Textured polish, 3 in 1 stick
Rating: 5 out of 5, I cannot wait to see what January's bag holds!
Are you an Ipsy subscriber? What did you think of your December Glam Bag? If you're not a subscriber and would like to subscribe, please use my referral link here.
**Don't forget to enter my giveaway for lip balm and an Etsy giftcard here!!**