I've been waiting to share the second half of my most recent Little Batch haul with you for a while now. I try to space out reviews on the same shops so you don't get too overwhelmed. I've been using Little Batch balms all winter, they're so buttery and smooth and really make my lips feel soft!
Company:
Little Batch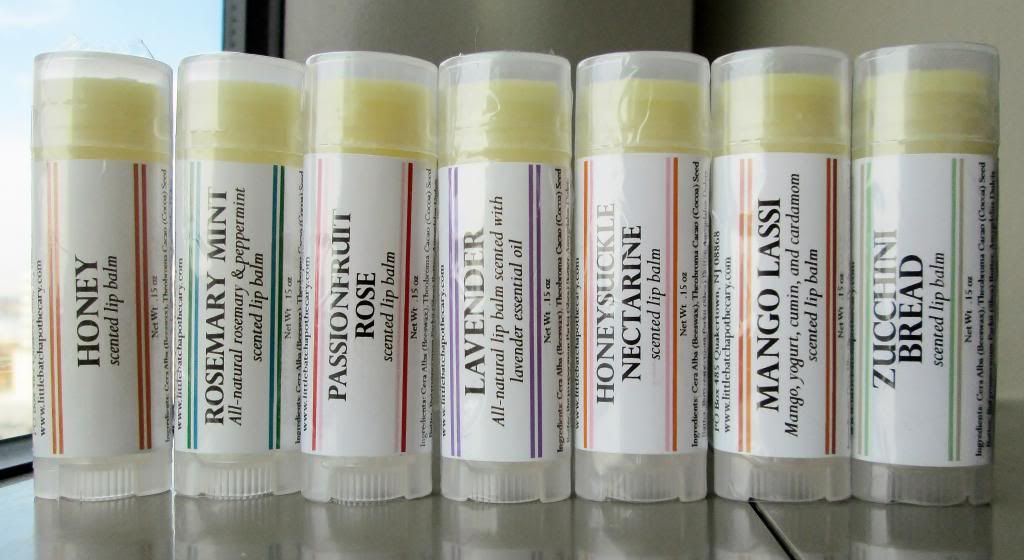 Flavors:
Honey, Rosemary Mint, Passionfruit Rose, Lavender, Honeysuckle Nectarine, Mango Lassi, and Zucchini Bread. The
Honey
smells sweet and exactly like a honey straw I tried a little while ago. If you're a honey fan, you want this balm, trust me. I'm not a fan of honey, but this balm doesn't smell half bad! The
Rosemary Mint
, like I said in
yesterday's Mini Monday
, smells clean and herbally and minty. For some reason I think of it as a balm I'd use when I'm sick. I think it's because it reminds me of Vaporub which I actually like the scent of. The
Passion Fruit Rose
smells mostly of rose, it's strong and actually really lovely. There is a super light scent of fruit with it, so if you're more of a floral fan, this is a balm you want to try. The
Lavender
smells super strong of lavender which you all know by now I really don't like, but I think some of you (*ehem* Jean), would really like this balm! The
Honey Suckle Nectarine
is a scent combination I've been wanting to try forever, despite knowing it would be a little floral, and it did not disappoint! It smells deliciously of sweet, ripe nectarines and a little bit of honey suckle. It's wonderful and really makes me wish Spring/Summer were here already! The
Mango Lassi
has got to be one of my absolute favorite Little Batch balms! It smells of mango, spices, and creamy yogurt. It's really just incredible. I love using it right after I use my Little Batch scrub in Mango Lassi. I had no idea what to expect from the
Zucchini Bread
, I've never had zucchini bread (Fun fact: I think I'm allergic to zucchini/squash because my throat gets tight and my tongue feels itchy...yeah it took me a while to put two and two together). This balm smells like a freshly baked good, it's buttery and rich and smells like something pulled fresh from the oven. If you like foody balms, this is one you MUST try!
Wear:
Like I said earlier, these are super buttery! They go on soooo smooth and are really creamy. They feel like the slickness from Epically Epic balms, but more of a creamy slick than an oily slick. They're not as firm as Long Winter Farm balms, the consistency is more like the softness of Ripe Shop balms, but not as delicate. These are kind of like the Baby Moose Lips line from ForGoodnessGrape, except more slick and melt into my lips almost immediately. Even though there are similarities between the consistencies of these balms and others, the consistency of these are unique and all their own. (I hope these were good comparisons, I'm listening to you guys and trying to do more shop to shop comparisons!) These balms also last about two hours before you can't feel them on your lips anymore, but the smoothness from the balm lasts for hours after the balm is no longer able to be felt on my lips.
Packaging:
These come in those oval tubes that I love. Each label has colored lines that correspond to the flavor of the balm. The labels also have the flavor of the balm right on the front of the tube which makes it super easy to tell which one you're reaching for, this is great for those of you who are like me and have over 15 Little Batch balms.
Price:
$4 per tube which is more than reasonable for one of these balms!
Overall
Pros:
Flavors, Wear, Packaging, Price
Cons:
Rating: 5 out of 5 twists. These lip balms are amazing! If you haven't tried a Little Batch balm yet, you're really missing out. The consistency and the flavors of these balms are just superb, I'd definitely recommend trying them out!
Ingredients: natural beeswax, cocoa butter, shea butter, sweet almond oil, grapeseed oil, jojoba oil, castor oil, tocopherol (vitamin e), flavor
Have you tried Little Batch balms? What did you think of them?
**Don't forget to enter my giveaway for lip balm and an Etsy giftcard here!!**