Happy Tuesday, everyone! I hope you all had a nice (possibly long) weekend! We certainly did, but I think all our activities this weekend left us super tired so I apologize for the delay. I've also been having some computer issues, Rob thinks my computer may have a virus, it often shuts down in the middle of me doing things. I usually have to work as fast as I can if the computer is up and running, if not, I'll most likely be cut off. Anyway, so sorry for the delay, I hope you enjoy today's post!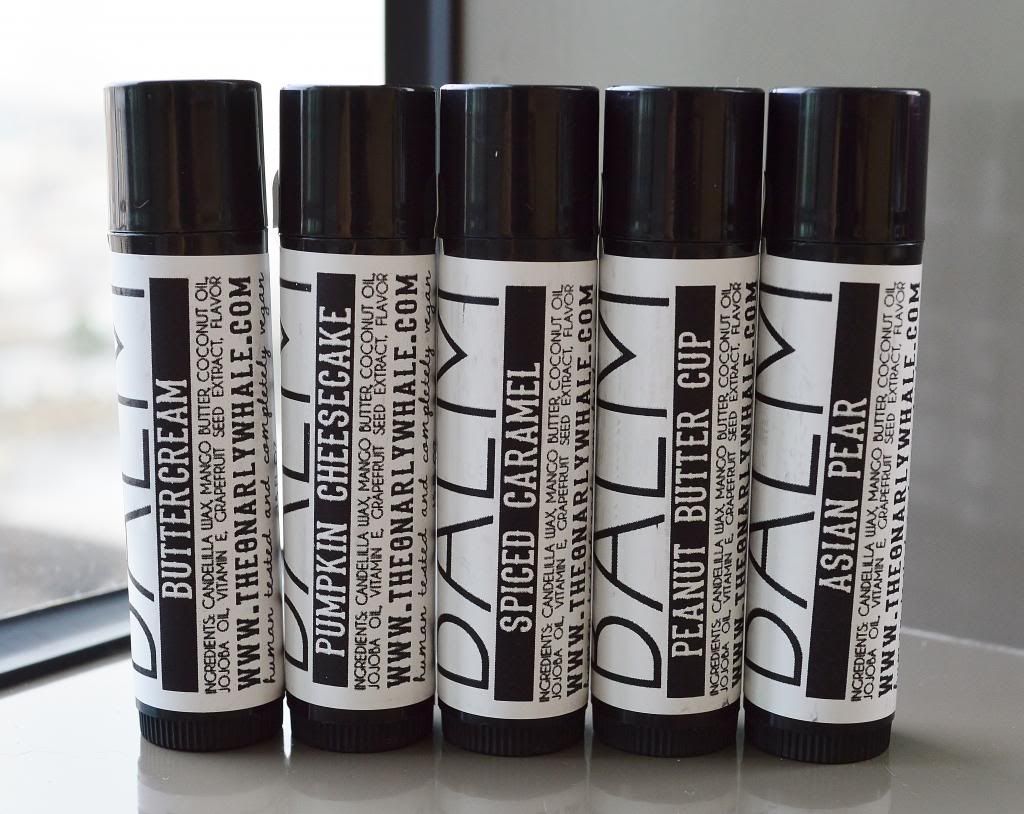 Company:
The Gnarly Whale
Flavors:
Asian Pear, Spiced Caramel, Pumpkin Cheesecake, Buttercream, and Peanut Butter Cup. The
Asian Pear
smells just like those delicious Korean pears I love. It's sweet and fruity and is really just a lovely scent. It has a pear-like scent, but it's totally different from our usual pears. The
Spiced Caramel
would have definitely been a staple for me in the Fall if I had had it then. It smells of gooey, sweet caramel blended with warm spices. It's a really warm scent and makes me just want to cozy up under a blanket. I'll have to keep this one in mind for next Fall! The
Pumpkin Cheesecake
is different from most of my other pumpkin cheesecake balms, it's really mild. It was kind of hard to detect a scent. There is a really, really light scent of pumpkin with just a hint of creaminess. I wish this balm had been stronger in scent. The
Buttercream
smells exactly like buttercream frosting. It's sweet and sugary and smells just wonderful. The
Peanut Butter Cup
is definitely one of my new favorites. It smells exactly like a Reese's Peanut Butter Cup, one of my absolute favorite treats! You really can't go wrong with creamy peanut butter and rich milk chocolate! If you are a chocolate peanut butter fan, you need to get this balm!
Wear:
These balms go on really firm. I have to fight a little bit with some of these balms to get them to go on properly. It may just be that I need to warm them up a bit, but they're still pretty firm. Once you get some on your lips though, the balm melts right in and becomes creamy. I can't think of another balm that goes on similar to this as most of my balms go on smooth and creamy with no fight. These are definitely more unique as they're firm when they go on with a little bit of fight, but then the consistency is smooth and creamy once on my lips. I'll try to think of a balm that is similar to this consistency.
Packaging:
These come in your average sized black lip balm tubes. The labels are black and white with the shops name and product type (lip balm) in giant letters. Below that is the flavor of the balm. My one qualm with this packaging is that I wish the labels had some color to differentiate the balms from one another. If you're like me and have more than 10 Gnarly Whale balms, it gets kind of difficult to find the balm you're looking for. I usually have to separate them out in order to know where to find which balm. I'll usually put one flavor in my purse and one on my nightstand and another in my backpack just to know where the balm is, but then I don't use that balm unless it's conveniently located. I do love the black and white, but something to set each balm apart would be great!
Price:
$3.50 which is definitely a deal for one of these balms!
Overall
Pros:
Flavors, Consistency once on my lips, Clean and simple packaging
Cons:
Balms were a little too firm, Hard to tell balms apart
Rating: 4 out of 5 twists. I love Gnarly Whale products, not just their lip balms, but their scrubs, hair detangler, and facial toner too! I'd definitely recommend them to everyone! These balms may have been firmer than Gnarly Whale balms I've used in the past, but they're still pretty lovely!
Ingredients: Candelilla wax, mango butter, coconut oil, jojoba oil, vitamin e, grapefruit seed extract, flavor
Have you tried these balms from The Gnarly Whale yet? What did you think of them?