Happy Sunday, everyone! I hope you're all having a lovely (long) weekend! Rob just bought a new MacBook Pro so hopefully I'll be able to get more posts up for you from a reliable computer! (If we're not fighting over who gets to use it next haha). Anyway, I've had my January
Birchbox
for just about forever and wanted to really use the products enough to give you my opinion on them.
Products in this month's
Birchbox
:
Whish Three Whishes Body Butter in Pomegranate, Klorane Gentle Dry Shampoo with Oat Milk, 100% Pure Fruit Pigmented Mascara in Black Tea, Paula's Choice RESIST C15 Super Booster, and Ahmad Teas Assorted Teas.
Whish Three Whishes Body Butter in Pomegranate:
I really love these little lotion samples I keep getting in my boxes. They're a great size for my purse. This one has a sweet, fruity scent and makes my hands feel wonderful! The body butter really sinks into my hands and really moisturizes my fingers. A full size bottle of this costs $24 which is a bit out of my price range for a body butter/lotion.
Klorane Gentle Dry Shampoo with Oat Milk:
This stuff is super easy to use and doesn't have too much of a chemical smell. I feel like it soaks up some oil from my second day hair, but I usually don't think it's enough to leave my hair down so I often just tie up my hair after. It still works pretty well, but I don't really need a dry shampoo in my lineup of products at this time. This is a product I may toss into my gym bag or travel bag. A full size of this costs $19.50, I'm not sure what competitor's prices of similar products are for this since I don't use dry shampoos so I don't really know if that's a good price or not.
100% Pure Fruit Pigmented Mascara in Black Tea:
I really like using this stuff! It gives my lashes length that looks natural and it's super lightweight. This is definitely an every day mascara for me, I'd use something bolder like Benefit's They're Real! for a night out. I really love the way it makes my lashes look and the brush works really well. I also like that it's pigmented with natural stuff, this one is pigmented with Black Tea. This product is all natural and organic! A full size of this is $18 and I definitely plan on buying a tube of this once I run out of my current stash of mascara.
Paula's Choice RESIST C15 Super Booster:
I had never used a product like this before, totally unchartered territory for me. I wanted to make sure I used this for a few weeks before I gave my verdict. I've been using it 1-2 times a day every day and I don't know if I see much of a difference because I don't have fine lines and I didn't notice a huge change in my acne marks. I still continue to use it though, I like the way it makes my skin feels! This isn't supposed to have a scent, and for the first few uses it didn't, but then I started to notice a tiny scent that kind of made me feel nauseas. I try to avoid putting it anywhere near my nose now because it just didn't sit well with me. All in all, I am considering purchasing a full size of this product although it's definitely something out of my price range. A full size of this is $45. But, I think it would last me a while.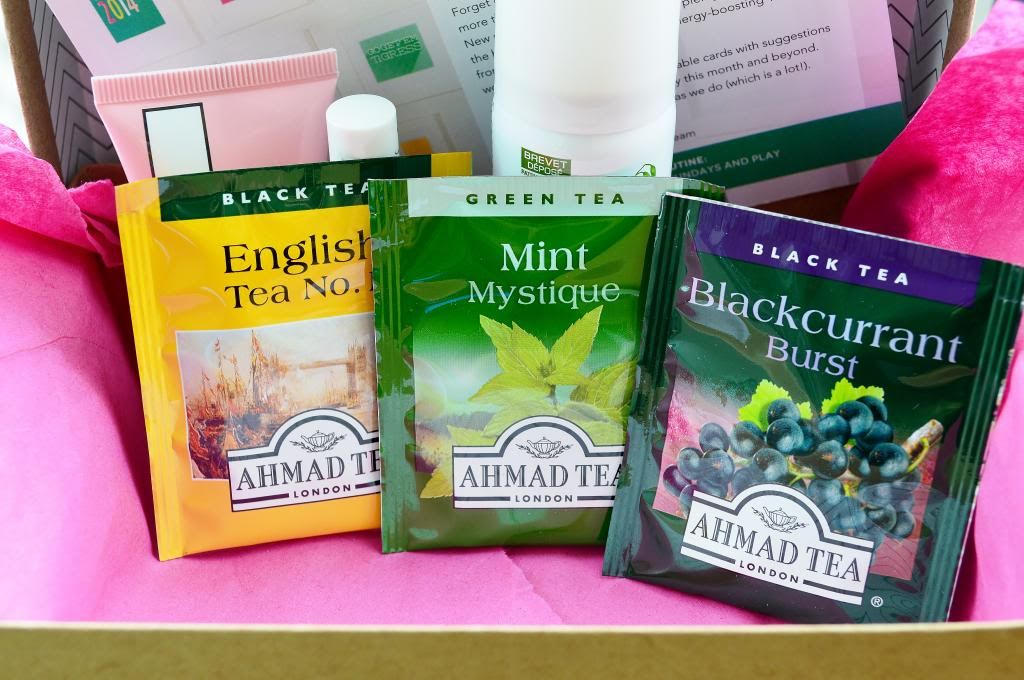 Ahmad Assorted Teas:
These teas came at a super perfect time, I've been drinking tea 2-4 times a day. So much so that we went out and bought a few more mugs because I was going through them so quickly. These have super wonderful scents which made me really excited to taste them, after they cooled down of course. The flavors of the tea were a little bit of a let down after smelling the amazing aroma coming off of them, I thought the teas would be more flavorful, but alas they are still just tea so the flavor isn't super strong. These teas were pretty good, but I currently have a cabinet full of tea so I won't be purchasing these (at least not until I run out of my supply, then maybe I'll consider purchasing them).
Overall this box was pretty good, I wasn't as excited about it as previous boxes, but I did use all of them and plan on purchasing some of them in the future. I don't know if this one was worth the $10 I paid for it, but not all boxes are going to be winners!
Are you a Birchbox subscriber? What did you think of your January box? If you're not a subscriber, but would like to be, please use my referral link here.