Hi everyone! Who's ready for a real review? I'm sorry I've been slacking yet again this week. I've been meaning to blog each day, but Rob's working on a super awesome game right now and he's pretty much had the computer all day, every day. My computer is still out of commission, so right now we're just sharing the one. Anyway...ChapStick® sent me these balms about two weeks ago and I've been dying to tell you about them! I've been using them on a daily basis!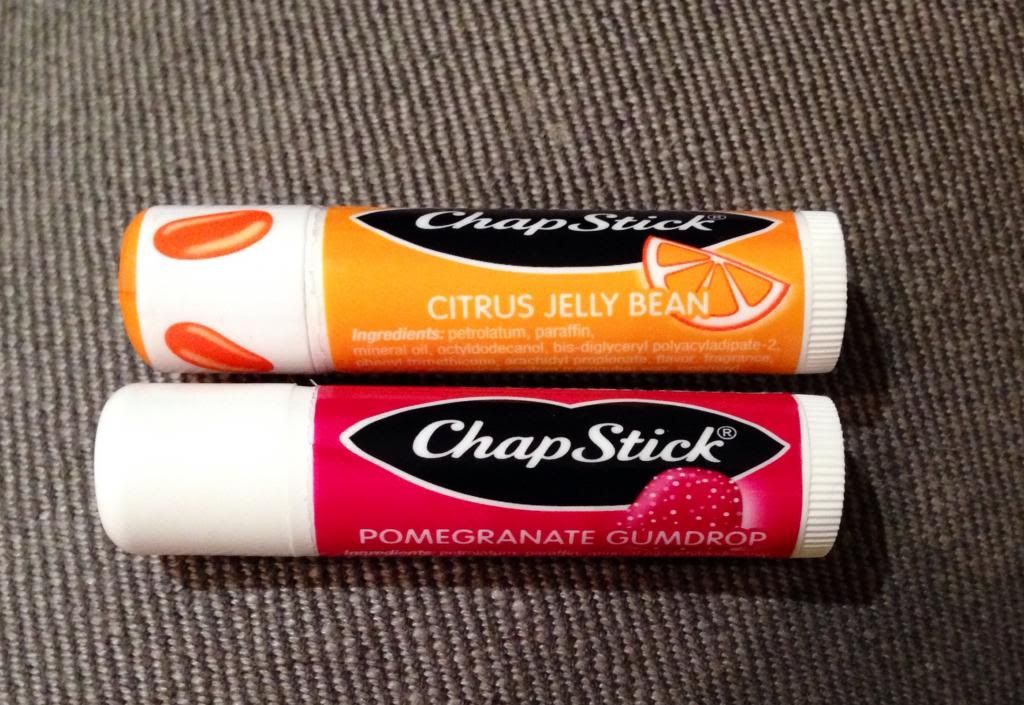 Company:
ChapStick®
Flavors:
Citrus Jelly Bean and Pomegranate Gumdrop. The
Citrus Jelly Bean
smells of bright, sweet oranges. It most definitely reminds me of an orange jelly bean! If you're a citrus fan, this is one I'd definitely recommend. The
Pomegranate Gumdrop
smells of tart, yet sweet pomegranate candy. I really do feel like I'm taking a whiff of a chewy, gumdrop candy. I don't know how they do it, but each scent smells exactly like you think it would! Even down to what the consistency of the candy would smell like, do you know what I mean?
Wear:
These go on nice and smooth, like your usual ChapStick® balms. They have a pretty great consistency, just enough goes on that you don't feel like your mouth is slathered in product, but at the same time doesn't leave you with the need to put more on (unless you want to of course!). They hold up pretty well through eating and drinking, I usually can get a good 1-2 hours out of one application.
Packaging:
These come in your average sized lip balm tubes with labels that are colored to match the flavor of the balm (pink for Pomegranate Gumdrop and orange for Citrus Jelly Bean).
Price:
These range in price depending on where you pick your's up at, anywhere between $0.99 and $2.18 which is a steal either way!
Overall
Pros:
Flavors, Wear, Packaging, Price
Cons:
Rating: 4.5 out of 5 twists, these balms are absolutely wonderful! I've always been a ChapStick® fan and I probably always will be. I always get super excited to find new flavors from an old favorite, and these ones definitely didn't disappoint!
Have you tried these new flavors from ChapStick yet? What did you think of them?
--------
The ChapStick® product and information have been provided by Pfizer Consumer Healthcare. These samples were provided complimentary to me by Pfizer Consumer Healthcare, however, all opinions are strictly my own. Thank you ChapStick® and Pfizer Consumer Healthcare for the opportunity!